The adventure continues
In 2024 something great's happening on that magic corner stage at Belvoir street. There are stories of Sydney and the other side of the world. There are big dreams, messy families, secret lives, epic journeys. There will be ten shows set in eighteen countries, and all the inventiveness and playfulness that we can muster.
As a season ticket holder, you'll receive discounted tickets (4-play packages start from just $182) as well as access to the best seats in the house. If you book your season ticket before 1 December 2023, we'll say thanks by recognising you on our subscriber acknowledgement wall in the theatre, giving you a full year of free ticket exchanges and putting you in the draw for a free glass of Handpicked Wine every time you come to the theatre.
More importantly though, you'll join us in a year of sharing secrets, rethinking our city, belonging, finding joy, knowing a little more, opening up to the world, and watching something great happen right in front of you.
We love it, you will too. Join us at Belvoir St in 2024.
---
There are two ways to book your season tickets:
ONLINE
Book your season tickets online, choose your own seats and have it organised in a jiffy. We recommend booking this way – because it's fast and easy.
BOOKING FORM
If you prefer to book with a paper form, download the booking form to print or use Adobe Acrobat to fill out the form.
Once it is complete, return it to us via one of the following options:
EMAIL
Attach it to an email and send to [email protected]
MAIL
Belvoir Season 2024
Gadigal Country
18 Belvoir Street
Surry Hills NSW 2010
THANK YOU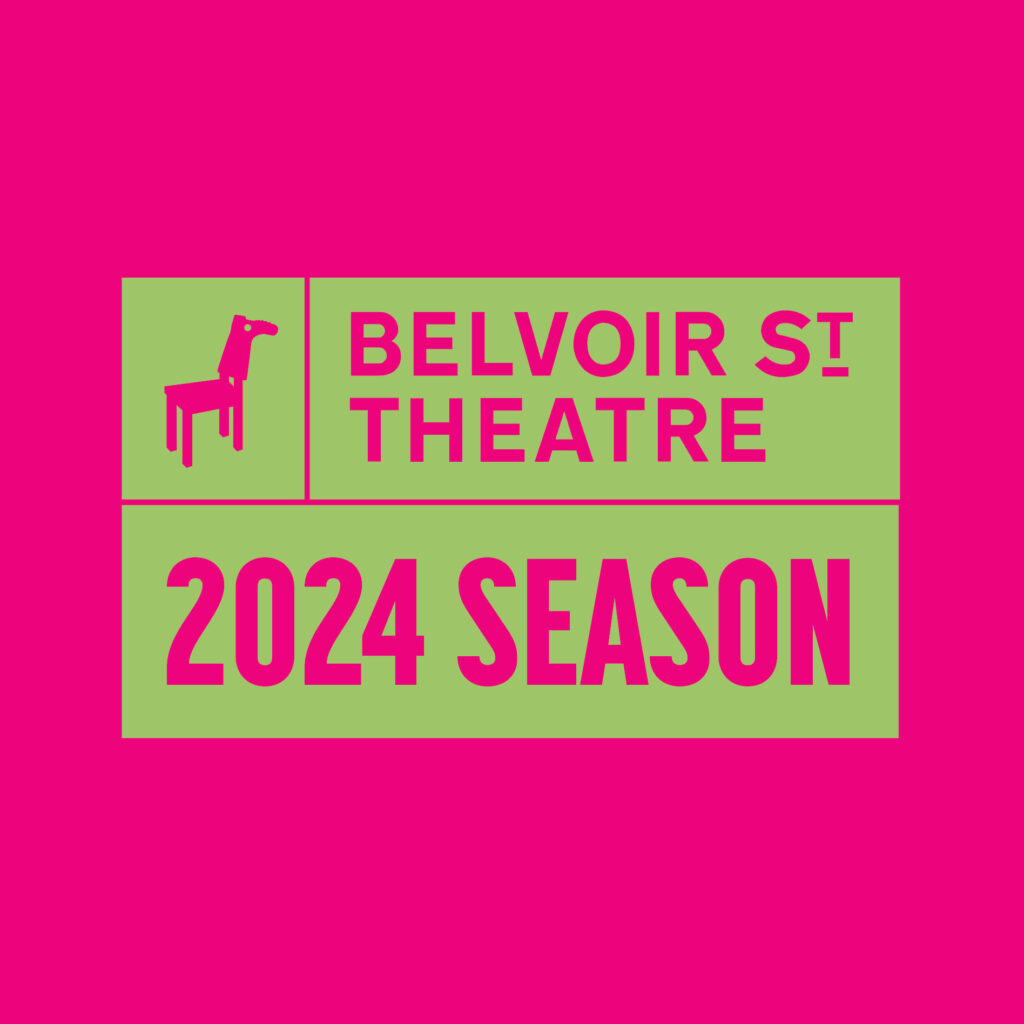 Our season book production team

Love and thanks go to our season book production team:

Alphabet Studio, Daniel Boud, Xu Yang Chua, Emma-Lee Court, Emily David, Nell Ferguson, Nazanin Foghani, Hannah Goodwin, Rani Haywood, Tim Kliendienst, Yolanda Lukowski, Calum Ross, Jake Severino, Kasper Wensveen and Richard Whitehouse.
It takes a village…

We're grateful to everyone who has played a role in the community of artists, supporters, visionary donors, co-creators, and audiences that has sustained Belvoir since the very beginning.

Your support allows us to do what Belvoir does best: create passionate, diverse, and surprising new Australian theatre, and share stories that need to be told, with people who need to hear them.

A special thanks to everyone who helped create and launch our 2024 season:

The Hon. Margaret Beazley AC KC, Governor of NSW, Colin & Richard Adams, Klaus & the team at Adflow, Patty Akopiantz & Justin Punch, Robert & Libby Albert, Sophie & Stephen Allen, Tim & the team at Alphabet Studio, Amy & the team at Anthem, Claire Armstrong & John Sharpe, Jessica Arthur, David & the team at Audio Visual Events, Jonathan & the team at Baker McKenzie, Danny Ball, The Balnaves Foundation, Aaron Beach, Julia & the team at Beckett's, Blake Beckett Trust, Wendy Beckett, Kodie Bedford, Guido Belgiorno-Nettis AM & Michelle Belgiorno-Nettis, Anthony Benscher, Megan Bennetts, Alison Benstead, Blazey Best, Jessica Block, David & the team at Bourke Street Bakery, Gabrielle Bowen, Catherine Brenner, Anne Britton, Jillian Broadbent AC FRSN, Joseph Brown, Stevie Bryant, Jan Burnswoods, Stefanie Caccamo, Andrew Cameron AM & Cathy Cameron, Grace Chapple, Dan & Emma Chesterman, Chrysanthemum Foundation, Xu Yang Chua, Gemma Clinch, Tom Conroy, Constructability Recruitment, Hartley & Sharon Cook, Copyright Agency Cultural Fund, Sally Cousens, Miriam Covell, Angus Crampton, Belinda Crawford, Emily David, Lewis Defina, Catherine De La Rocha Espinoza, Gayda De Mesa, Emma Diaz, Doc Ross Family Foundation, Sue Donnelly, Chris Edwards, Bob & Chris Ernst, Andrew & the team at EY, Libby Fairfax & John B Fairfax AO, Johanna Featherstone & Geoff Ainsworth, Eamon Flack, Isaac Forsyth, Mark & Jane Fulton, Gandevia Foundation, Kathleen & Danny Gilbert, Gianni & the team at Don Giovanni Pizza Bar, Tanya Ginori-Cairns, Lucinda Gleeson, David Gonski AC & Assoc. Prof. Orli Wargon OAM, Hannah Goodwin, Amitav Goswami, The Greatorex Fund, Fee & David Hancock, Julie Hannaford, Michael, Mark & the team at Handpicked Wines, Andrew Hasler, Marion Heathcote & Brian Burfitt, Stevie Hefferan, Libby Higgin & Dr Gae Anderson, Liz Hobart, Victoria Holthouse, Liza & Daniel at Hotel Hacienda & Tacos Muchachos, Houston Group, Fiona Hulton, Sue & Ian at Hunter Valley Holiday Homes, Meg Hyeronimus, George, Glen & Jane at JMC Academy, Johnson Family Foundation, Samantha Jones, Belinda & the team at Kabuku, Ingrid Kaiser, Warrick & the team at Kawai Australia, Ben & Tom at Kay & Hughes, Lisa Kelly, Ren Kenward, Levi Kenway, Alison Kitchen, Raj Labade, Bert LaBonté, Lazberger Family Fund, Ian Learmonth & Julia Pincus, Jason Lee, Ollie Lee, Jonnie & Holly at Leif, Kira Leiva, Abbie-Lee Lewis, Lee Lewis, Mabel Li, Carissa Licciardello, Ross Littlewood & Alexandra Curtin, Robin Low, Helen Lynch AM & Helen Bauer, Michael Lynch CBE AO, Kelsey Martin, Mandela Mathia, Jane May, Tom & Jo McFarlane, Luke McGettigan, Rachel McNamara, Bruce Meagher & Greg Waters, Carole Meers, Sam Meers AO, Sarah & Simon Meers, Dom Mercer, Chris & the team at Merchant & Green, Robert & Vanessa Morgan, Mountain Air Foundation, Tommy Murphy, Jacob Nash, Kerr Neilson, The Neilson Foundation, Nelson Meers Foundation, Thomas & the team at Network Computing & Consulting, Zahra Newman, Daniel R. Nixon, Jade & the team at The Norfolk House & Hotel, Naomi O'Brien, Stuart & Kate O'Brien, Edward O'Leary, Cathie & Paul Oppenheim, Oranges & Sardines, Karl & the team at Ord Minnett, Barbara Papathanasopoulos, Don & Leslie Parsonage, Shyleja Paul, Angela Pearman, Rebel Penfold-Russell OAM, Maria & the team at Performance Medicine, Dan & Jackie Phillips, Alisa Pincus, Plenary Group, Andrew Price, Griffin & Gemma at Poor Toms, David Pumphrey OAM & Jill Pumphrey, Dominique Purdue, Jay Purohit, Pamela Rabe, Rachel Emma Ferguson Foundation, Kaylee Rankin, Ash Rathod, The Roberts Pike Foundation, The Roger Allen & Maggie Gray Foundation, Elenoa Rokobaro, Sue Rosen, Calum Ross, Tom & Kica Saar, Britanny Santariga, Joseph Savva, Nick Schlieper, Jake Severino, Mark Seymour, S. Shakthidharan, Sherry-Hogan Foundation, Jann Skinner, Chris & Bea Sochan, Dev Solanki, Adam Sollis, Keerthi Subramanyam, Corey & the team at Special T, Zainab Syed, Brad & the team at Sydney Physio Solutions, Victoria Taylor, Susan Teasey, Rob Thomas AO, Helen Thomson, Judy Thomson, Louise Thurgood-Phillips & Justin Phillips, Joel Trotter, The Wales Family Foundation, Thomas Weatherall, The WeirAnderson Foundation, Darran Whatley, Sally White OAM, Richard Whitehouse, Shemara Wikramanayake & Ed Gilmartin, Annie Williams, Dalara Williams, Kim Williams AM & Catherine Dovey, Rosie Williams & John Grill AO, Lucy, Karyn & the team at Woolcott Research, Tom Wright, Ursula Yovich, Cathy Yuncken Mohammad & the team at Zahli, Brigid Zengeni, JoJo Zhou.