17 September - 16 October 2016
Upstairs Theatre
By Leah Purcell  Director Leticia Cáceres
About
Tarantino meets Deadwood in this full-throttle drama of our colonial past, written by the indomitable Leah Purcell.
Henry Lawson's story of the Drover's Wife pits the stoic silhouette of a woman against the unforgiving Australian landscape, staring down a serpent – it's our frontier myth captured in a few pages. In Leah's new play the old story gets a very fresh rewrite. Once again the Drover's Wife is confronted by a threat in her yard in Australia's high country, but now it's a man. He's bleeding, he's got secrets, and he's black. She knows there's a fugitive wanted for killing whites, and the district is thick with troopers, but something's holding the Drover's Wife back from turning this fella in…
A taut thriller of our pioneering past, The Drover's Wife is full of fury, power and has a black sting to the tail, reaching from our nation's infancy into our complicated present. And best of all, Leah's playing the Wife herself.
Produced by Belvoir in association with Oombarra Productions
Indigenous theatre at Belvoir supported by The Balnaves Foundation
Standing Room and Waitlist
Please note: Tickets to The Drover's Wife are now extremely limited.
For every performance that is sold out we make limited standing room tickets available. Standing room ticketholders must stand for the duration of the performance, in a location to be determined by the Front of House staff. Standing room tickets may only be purchased over the phone or in person.
For sold out performances, we also operate a waitlist for seats. The waitlist is available at the theatre an hour before the performance is due to commence. Please note the waitlist is only available in person, and we cannot guarantee availability. We welcome patrons who have already purchased a Standing Room ticket to join the waitlist for seats an hour before the show, and if successful pay the difference to upgrade to the equivalent seat price.
Warning: This production contains blood, violence, sexual violence, strong coarse language and distressing themes. If you have any questions or concerns please get in touch with our Box Office for more information.
Please note: The Drover's Wife has a ten-minute lock-out for latecomers. After that time, latecomers will not be admitted. We advise arriving at least 15 minutes prior to the production starting. 
Cast
Tony Cogin
Mark Coles Smith
Benedict Hardie
Will McDonald
Leah Purcell
Team
By Leah Purcell
Director Leticia Cáceres
Set Designer Stephen Curtis
Costume Designer Tess Schofield
Lighting Designer Verity Hampson
Composer/Sound Designer THE SWEATS
Dramaturg Anthea Williams
Movement Director Scott Witt
Traditional Movement & Language Consultant/Spear Maker Sean Choolburra
Dialect Coach Jennifer White
Prop Maker Alexi Creecy
Production Maker Michele Bauer
Stage Manager Isabella Kerdijk
Assistant Stage Manager Keiren Smith

Prices
Belvoir's ticket prices can be dynamically adjusted either up or down without notice. This can apply to a small number of tickets in response to demand for a specific performance date or time.
Prices listed on the Ticket Prices page account for the majority of tickets but please contact Box Office for current prices on all tickets available. Full ticket terms and conditions are also available on the same page.
Reviews
★★★★ This might be the most important new Australian play written this year…it's also one of the most absorbing and bracing pieces of drama in Sydney this year.

Ben Neutze | Daily Review
★★★★ The Drover's Wife is a potent piece of storytelling made enthralling by a cinematically complete package of a production directed Leticia Caceres.

Jason Blake | The Sydney Morning Herald
Writer and Director Notes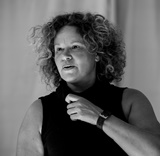 WRITER'S NOTE BY LEAH PURCELL
Like many Australians, I've grown up with this story and love it. My mother would read or recite it to me, but before she got to that famous last line, I would stop her and say, "Mother, I won't ever go a drovin'."
I always wanted to do something with this story with me in it as the Drover's Wife. There were two forms of inspiration that motivated me to write this play. First came the film idea in 2006, which I wanted to shoot in the Snowy Mountains. That inspiration came when I was filming the feature film Jindabyne, directed by Ray Lawrence. Secondly, I was in a writing workshop. I was there as a director, but got frustrated. So I went home and said it was time to write my next play. I looked at my bookshelf and there it was: my little red tattered book of Henry Lawson's Short Stories. The red cover had now fallen off, its spine thread fraying and my drawings inside as a five-year-old fading.
In the original story, the Drover's Wife sits at the table waiting for a snake to come out of her bedroom having gotten in via the wood heap, which a 'blackfella' stacked hollow. While she waits for the snake, she thinks about her life and its hardships. Her oldest son joins her and she shares her story with him.
This is not my version of The Drover's Wife.
I was heavily influenced by the original story, and if you know it, you will see that. But I've activated all the characters she recalls in the original story. In my version, I have brought them to life for the stage and reinvented the conversations and action that might have taken place. Weaving my great grandfather's story through the play has given it its Aboriginality so to speak, and I've embellished the story to give more depth and drama for the stage.
When I did sit down to start writing, the one thing I was conscious of was wanting to apply the stories of the men from my family. By this, I mean taking various positive traits from a particular family individual or a story that I was told or have researched, and embellishing the characters of Yadaka, Danny and the father of the Drover's Wife with these details.
Through reading the reports on The Drover's Wife, the black man was said to be the one that stacked the wood heap hollow allowing the snake to get in under. He is painted as the antagonist so I thought that I would turn that around in my play and have our black man as the hero. With this in mind, I was very conscious of the harshness and brutality of this time. Henry Lawson's Book of Short Stories, where The Drover's Wife appears, was first published in 1893. This year was also significant because of an event in my great grandfather's life that brought him to Victoria from far north Queensland, which you will hear about in the play.
In one of my earlier drafts, I wasn't happy with the ending and my partner said, "If we as blackfellas can't tell the truth of our history, then who can?" This opened up the floodgates, and I wrote like I was riding a wild brumby in the Alpine country, and no apology for the rough ride.
I think of this play as an Australian western for the stage. I was influenced by the HBO series Deadwood and the film by Quentin Tarantino, Django Unchained. I was also influenced by the history that was taken from my great grandfather's personal papers and the recorded history that was documented by people of authority at this time.
This play has been described as dangerous… I love that it is and again give no apology for it. It is also a romance and a story of a mother's love. So saddle up and hang on. We are going to come roaring down that mountain, side hit them low flats and rip onto the Belvoir stage. "Hip'im Jackson!" as my mum would say.
A massive thank you to the Balnaves Foundation for the 2014 award I received to help bring this play to fruition. I also want to thank Mr. Flack for commissioning my play. It was the first play he programmed as Artistic Director, allowing me to continue my 20 year working relationship as actor, writer and director for Belvoir St Theatre… It means a lot. Such a lot. Thank you.
Thank you to the amazing and very talented people involved in this production. To my cast for their hard work, knowledge and dedication in bringing these characters to life under the brilliant direction of Leticia Cáceres. Thanks to Leti who brought a team of experts with generous gentle souls together for this project – Stephen Curtis, Tess Schofield, Verity Hampson and Pete Goodwin. Thanks to our wonderful, smart and lovely ladies in our stage management team, Bella and Keiren.
To Uncle Hans Pearson and Sean Choolburra of the Guugu Yimithirr, and Paul House, Custodian of the Ngambri Walgalu, a huge thank you and much respect. Also to my Elders and family, Aunty Honor Cleary, Uncle Michael Mace, Hazel Mace (Ma Mace), Francis Adkins and Lynelle Minnie Mace… a huge thank you for your love and support.
I must thank my partner in business and in life, Bain Stewart, Oombarra Productions producer with this play. He is always there and his words of wisdom come at the right time… I fear nothing knowing he is by my side.
To my grandchildren, Wurume Rafael and Lysander Wahn, and our little Sydney silky terrier Odi, thanks for keeping Nan real.
To my daughter Amanda for putting up with me for far too long.
Thanks to my mum for giving me this story and so much more.
With great respect and appreciation to my ancestors for the stories and the ancient ancestors for their guidance.
Altjeringa yirra Baiame.
Peace x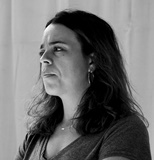 DIRECTOR'S NOTE BY LETICIA CÁCERES
The Drover's Wife by Leah Purcell is a post-colonial and feminist re-imagining of Henry Lawson's short story of the same name. Leah unapologetically claims this much-loved frontier narrative and infuses it with Indigenous and Women's history, calling into question the shameful treatment endured by both at the hands of white men. Brutality reels through the writing. Yet this is a work that is steeped in beauty; her images and metaphors, her meticulously crafted characters, her interplay between action, humour and drama, come together compellingly. But, what's most exciting about Leah's The Drover's Wife is her command of genre: the Western; its tropes so familiar to us, yet, Leah manages to reclaim them in order to ask us to bear witness to the atrocities of the past.
For me, the process has been very much about serving Leah's vision and meeting her bravery, humbly. Simply, I've tried not to get in the way of her truth. I have been confronted with the grim insight of the heinous cruelty of the past, and been led by the Indigenous voices in the room who have deepened my understanding of the level of inhumanity and degradation that has marked this land; stories that would make your blood run cold.
The reality of abuse has been hard to depict on stage, our own humanity as artists has, at times, unquestionably been tested. What kept us going was the sense of unity in our rehearsal room; the tenacity with which the entire team (creatives and actors) rallied together to tell this most urgent of stories, and the subversive power of beauty that lies in Leah's writing. I want to thank Belvoir, and Eamon in particular, who tells me this was the first show he programmed when he was given the reigns as Artistic Director. It gives me comfort to know that like Neil and Ralph, Eamon is deeply committed to telling stories by our Indigenous artists. Stories that not only entertain, but ask the hard questions of us as a nation of our past, present and future.
I also wish to thank the cast, crew and creatives who worked tirelessly and brought all of themselves to this project. It's been a joyous collaboration.
But mostly, I want to thank Leah Purcell whose courage never ceases to inspire. Any director worth their salt would be hard pressed to collaborate with a better artist. Thank you for your trust and faith in me.
Always was.
Always will be.
Aboriginal land.