13 April - 7 May 2017
Upstairs Theatre
The Dog by Brendan Cowell  The Cat by Lally Katz
Director Ralph Myers
About
Back by Popular Demand!
This double bill was a sleeper hit when it played Downstairs in 2015. Now it returns, this time on the Upstairs stage.
The Dog, Brendan Cowell's not-so-flattering portrait of the tricky line between mateship and romance, and of the insatiable appetite of Jack Russells for the most disgusting things they can find.
And The Cat, Lally Katz's fable of the perils of co-owning a feline with your ex, and the things a cat would say if he was allowed to speak his mind.
Lally and Brendan and Ralph managed to reinvent the rom-com for the stage in a way that was completely beguiling and very, very funny. It was clear at the end of its season that its life was far from over. – Eamon
Warning: This production contains strobe lighting effects, haze, mild coarse language and adult themes.
Cast
Sheridan Harbridge
Benedict Hardie
Xavier Samuel
Team
The Dog by Brendan Cowell
The Cat by Lally Katz
Directed by Ralph Myers
Redirected by Anthea Williams
Set Designer Ralph Myers
Costume Designer Mel Page
Lighting Designer Damien Cooper
Composer & Sound Designer Stefan Gregory
Associate Composer & Sound Designer Riley McCullagh
Stage Manager Bella Kerdijk
Assistant Stage Manager Katie Hankin

Performance Times
Tuesday & Wednesday 6.30pm
Thursday & Friday 8pm
Saturday 2pm & 8pm
Sunday 5pm
Preview (bookable)
8pm, 13 April
Opening Night (invitation only)
8pm, 15 April
Belvoir Briefing
3pm, 2 April
Unwaged Performance
2pm, 27 April
Running Time
100 mins inc. interval
Prices
Single tickets for The Dog/The Cat go on sale to the general public on 30 January 2017. Book a subscription to secure tickets now and save on the single ticket prices below. 
Belvoir's ticket prices can be dynamically adjusted either up or down without notice. This can apply to a small number of tickets in response to demand for a specific performance date or time. Full ticket terms and conditions can be found on the Ticket Prices page.
|  Ticket Type | Upstairs |
| --- | --- |
| Full Price | $72 |
| Subscriber Discount Rate | $67 |
| Seniors*/Industry**/Groups (10 or more) | $62 |
| Concession† | $49 |
| 30-Down# | $47 |
| Previews | $40 |
| Student Saver# | $37 |
† Concession prices are available with a full-time Australian student card, all Centrelink Pensioner concession cards and Veteran Affairs' cards.
** Industry prices are available to members of Actors Equity (MEAA), AACTA, ASMA, ASDA, ARDA, AFTT, Australian Academy of Dramatic Arts, Actors Centre, Performance Space, Australian Writers' Guild, Artshub and the NSW Writers' Centre.
# 30-Down and Student Saver prices are available for Previews, Wednesday evening, Thursday evening, Friday evening, Saturday matinee, Saturday evening.
Some of our productions at Belvoir may contain strong language, smoking, nudity, violence, strobe lighting, haze or other things you may find confronting or uncomfortable. If you are concerned about any of these please ask our Box Office staff about content when booking.
Reviews
This double bill of romantic comedy is hands-down the sharpest and most entertaining show we've seen at Belvoir this year. ★★★★

Jason Blake | The Sydney Morning Herald
You'll feel more than a little spoiled after this treat … [A] guilty pleasure crafted with great skill and love. ★★★★

Ben Neutze | Daily Review
It's so incisive precisely because it's theatre about our own lives in a way that's both funny and true, about relationships ending and evolving, and about the value of our pets. ★★★★

Hannah Story | The Music
Stellar performances play across the board, with the cast of three leaving an infectious spell on the audience. ★★★★1/2

Julian Ramundi| The Brag
The audience were not just laughing, they were snorting.

Two of Australia's much loved playwrights … have combined to blow a breath of fresh air into Belvoir St.

Rebecca Whitton | Australian Stage
Writer's Note: Brendan Cowell
Writer of The Dog
I have realised of late that I have no imagination. Or, perhaps, do not rely on it when it comes to storytelling. Everything I write seems to be derived from my own experience on earth as a human. I can't, or don't seem to be able to invent a new planet where a variety of creatures live. A place with its own currency, its own demons, its own values, food and terrestrials. I am not that smart. Or maybe I'm just not that interested. I've always liked movies and books set in backyards and kitchens, and more recently bars and bedrooms. I like talking films, talking plays, about talking people. So here is the next instalment of my failure to invent ghouls and vampires and tree-headed-space-horse-children. Here is a play about love in a park, based on my own experiences of co-owning a dog and talking to people in parks, or ignoring people in parks which is, sadly, often more my go. This is a play about three people in their early thirties, who are on the cusp of big decisions in their lives. It's a play about the importance of pets in our lives, and how different or not different we are when it comes to love and bravery.
It was a joy to be back in the room with Ralph and Lally, two of my favourite old mates from the theatre planet. The theatre planet. Where creatures have their own currency, demons, values and terrestrials. Perhaps I do have an imagination.
NB: No animals were harmed in the making of this Writer's Note.
Writer's Note: Lally Katz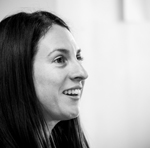 Writer of The Cat
Ralph Myers first approached me about writing a play about a broken up couple and their cat four years ago when I was recovering from surgery at the Regents Court Hotel.  I'd gotten sick thanks to a psychic's curse when we were about to open Stories I Want to Tell You in Person, also at Belvoir. Ralph had recently broken up with his wife, but they were still sharing a cat. He thought that a broken up couple sharing a pet would make a good story. I like Ralph, relationships and animals in plays, so I thought it would make a good story too. I wrote a few scenes and Ralph and I met and talked about it a lot while I was recovering, but then we forgot about it. Time passed and Ralph and Brendan Cowell started sharing a dog. Ralph got in touch again and suggested we produce a double bill: a play written by Brendan about two men sharing a dog, and a play written by me about the cat breakup. By then I'd had a recent breakup of my own – so I had plenty of material!
This play first went on Downstairs at Belvoir in 2015. It is one of the shows I am proudest to be part of. It gave me nothing but joy to work on. I hope that it will give you joy in this return season Upstairs at Belvoir. In between the play's first season and this one, I got married in Las Vegas.