The Cherry
Orchard
by Anton Chekhov
Directed & Adapted by Eamon Flack
Venue

Upstairs Theatre

Dates

29 May – 27 June 2021

Duration

2 Hours & 35 minutes (approx.) Incl interval
A homecoming. A picnic. A party. A leavetaking.

It's an uncertain time. Change is coming, you can sniff it in the air.
A matriarch returns to a home that's seen better days – but it still has its orchard. Precious, beautiful, but…in the way.
Chekhov's great, last play needs no embellishment to describe our times. What orchards are we cutting down? What orchards are we planting?
Pamela Rabe leads a large cast from today's Australia, in a classic as funny as it is profound. This promises to be one of the highlights of 2021.
I've wanted to do this for years. With a richly talented gang of actors and after the year we've all lived through…it's time for this beautiful, celebratory, moving play. – Eamon Flack
Special thanks to Ben Quilty for the painting of The Cherry Orchard family painting, "Untitled".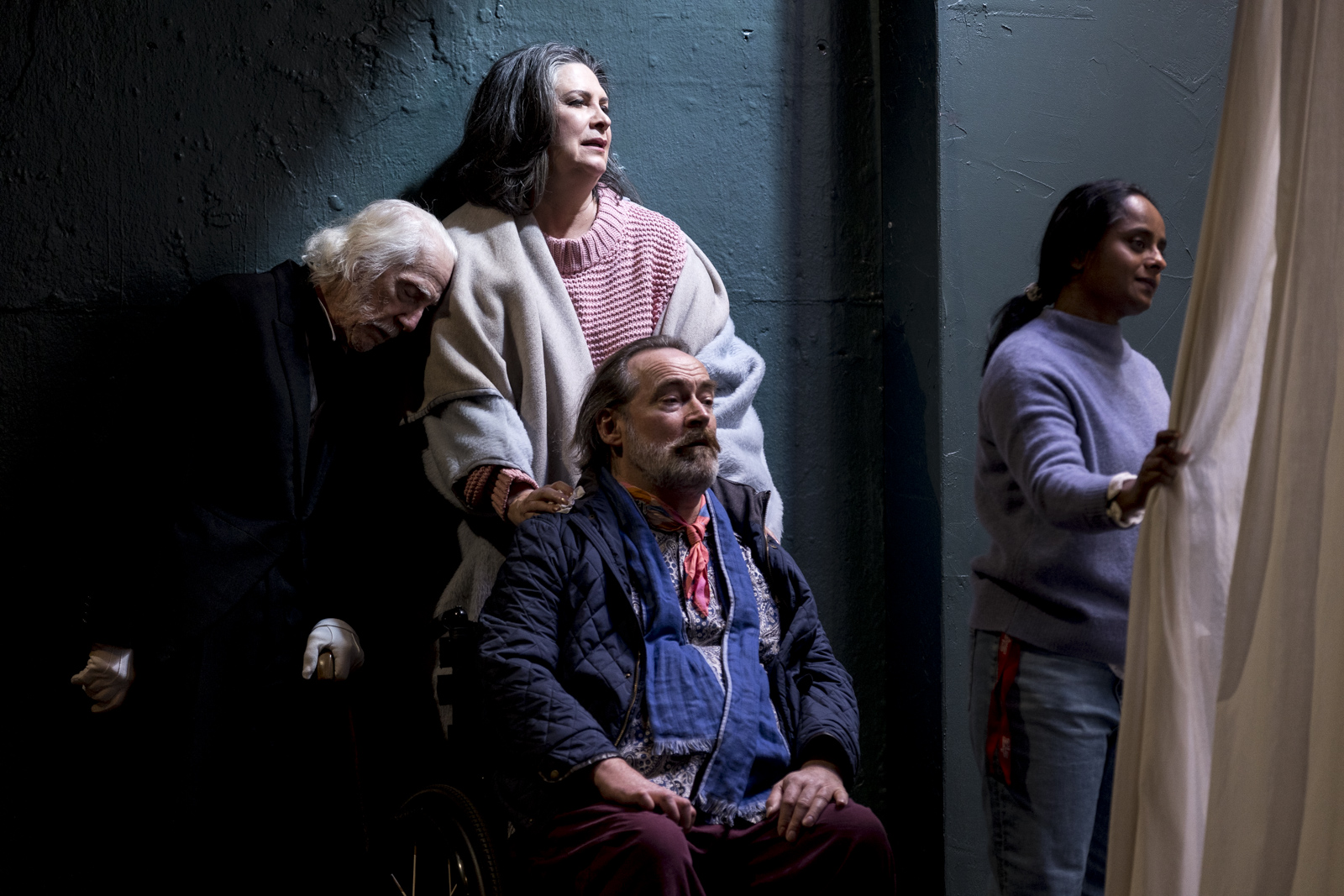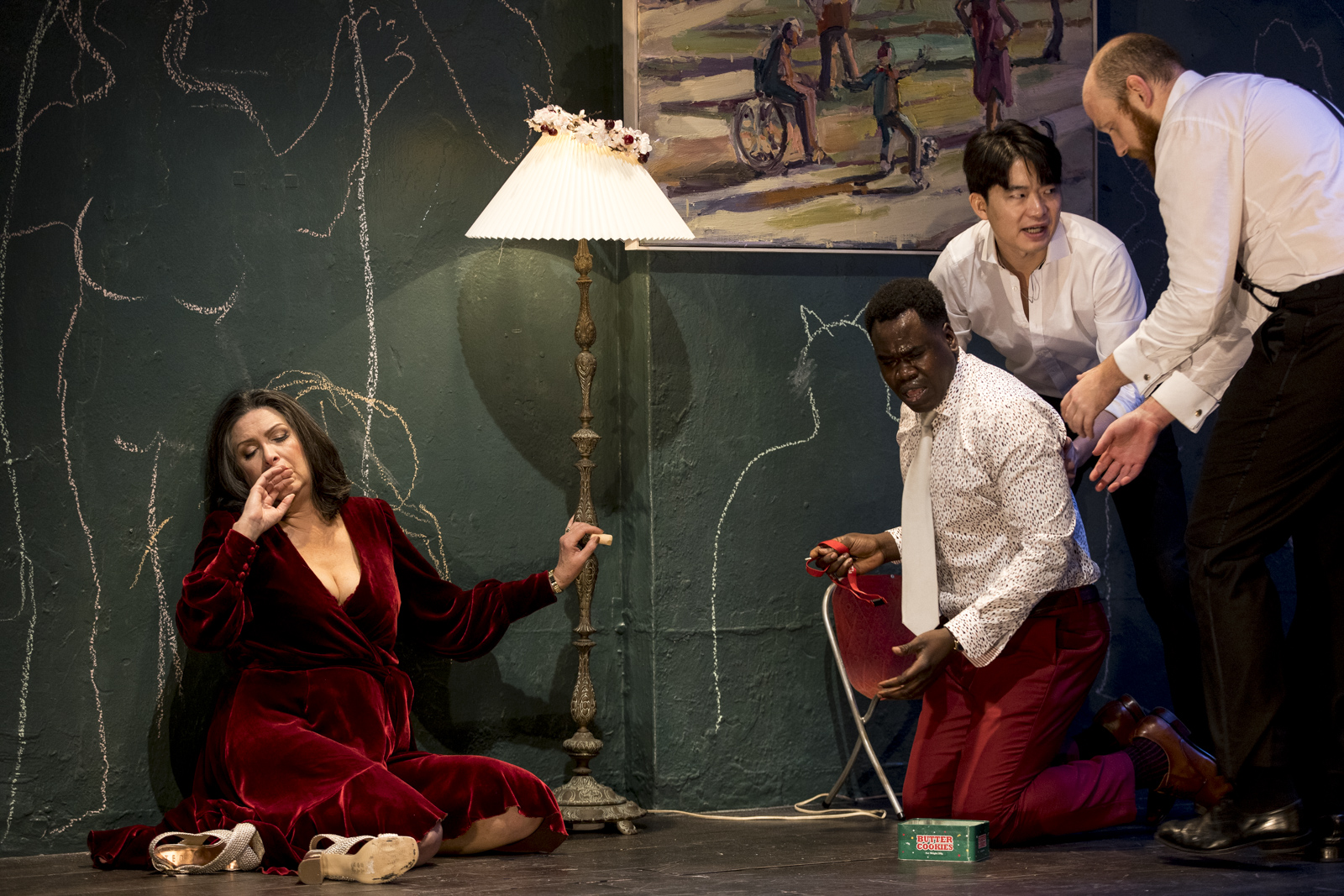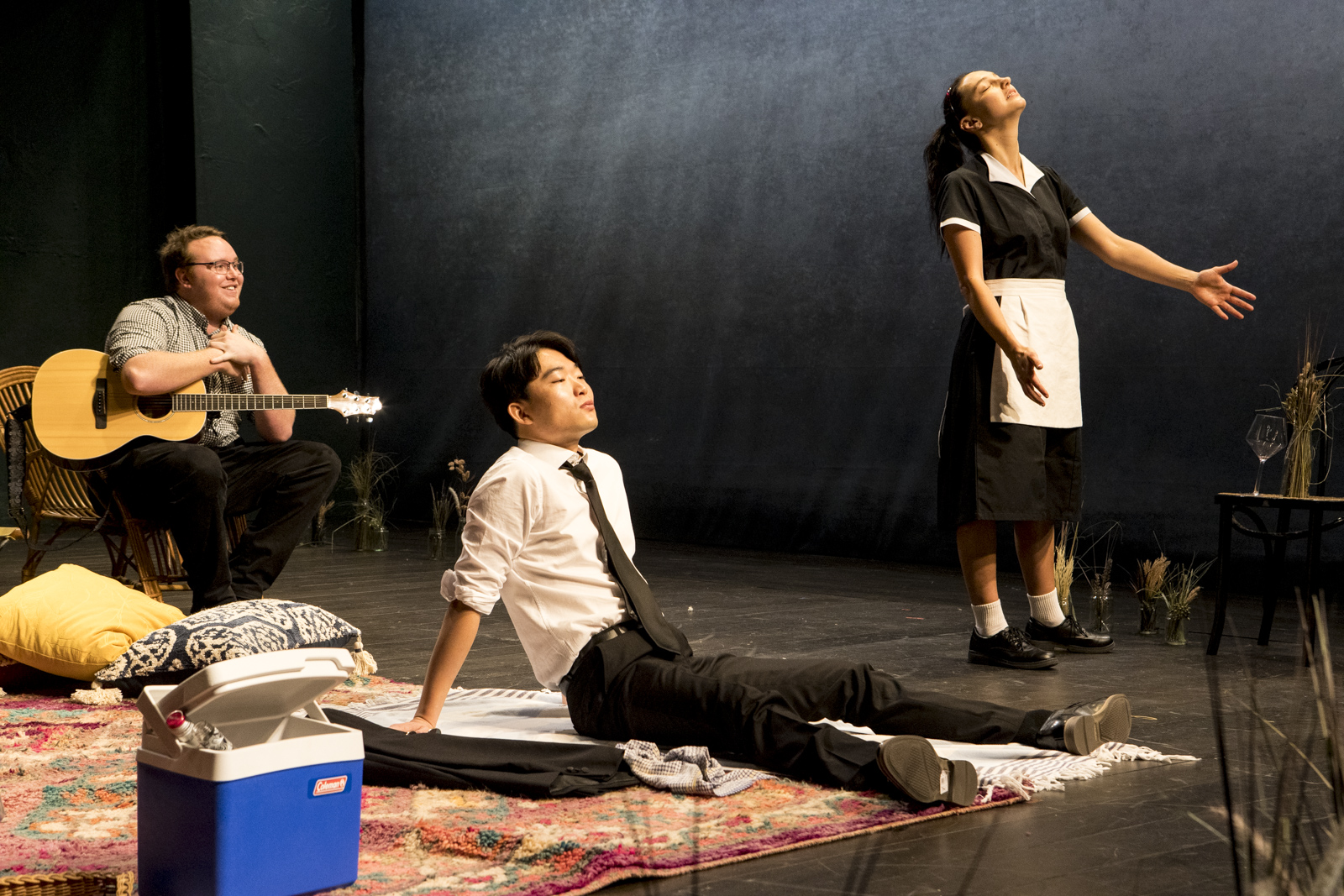 TEAM
Anton Chekhov


Writer

Eamon Flack


Director

Eamon Flack is the Artistic Director of Belvoir St Theatre in Sydney. He is a director, writer, dramaturg and script developer for stage and screen. Eamon was born in Singapore and grew up in Singapore, Darwin, Cootamundra and Brisbane. He has a BA (English and History) from the University of Queensland, and trained as an actor […]

Read full bio

Eamon Flack

Eamon Flack is the Artistic Director of Belvoir St Theatre in Sydney. He is a director, writer, dramaturg and script developer for stage and screen.

Eamon was born in Singapore and grew up in Singapore, Darwin, Cootamundra and Brisbane. He has a BA (English and History) from the University of Queensland, and trained as an actor at WAAPA from 2001 to 2003. He has worked around Australia and internationally, from the Tiwi Islands to Sri Lanka and the UK. He has led Belvoir's new work development in various guises since 2006, and has commissioned and developed many of the company's most acclaimed new works over the last 15 years.

His productions of The Glass Menagerie, Angels in America and Counting and Cracking won the Helpmann Awards for Best Play in 2015, 2016, and 2019.

His key directing credits include: Counting and Cracking (with Associate Director S. Shakthidharan, winner of the Helpmann Award for Best Direction of a Play and nominated for the Sydney Theatre Award Best Direction of the Mainstage Production), The Jungle and the Sea (co-directed with S. Shakthidharan, winner of Best New Work and Best Production at the Sydney Theatre Awards), Angels in America, The Glass Menagerie, Into the Woods, Tommy Murphy's Packer & Sons, Rita Kalnejais's Babyteeth, Alana Valentine's Wayside Bride (co-directed with Hannah Goodwin), Tom Wright's adaptation of Brecht's Life of Galileo, Eamon's own adaptations of Hendrik Ibsen's Ghosts and Chekhov's The Cherry Orchard and Ivanov (Sydney Theatre Awards Best Production and Best Director), as well as The Rover, The Blind Giant is Dancing, As You Like It, and Beckett's The End. His other directing credits include A Midsummer Night's Dream (Bob Presents/B Sharp) and Wulamanayuwi and the Seven Pamanui by Jason de Santis (Darwin Festival).

His writing and adaptation credits include: Associate Writer of S. Shakthidharan's Counting and Cracking (winner of the Nick Enright Prize for Playwriting at the NSW Premier's Literary Awards, the Victorian Literary Prize and the Victorian Premier's Award for Drama, Helpmann for Best New Work), co-writer with S. Shakthidharan of The Jungle and the Sea (Winner, Best New Work, Sydney Theatre Awards 2022); a stage adaptation of Christina Stead's The Man Who Loved Children; Chekhov's The Cherry Orchard and Ivanov, Gorky's Summerfolk, Sophocles' Antigone and Ibsen's Ghosts; co-adapter with Leah Purcell of Ruby Langford Ginibi's memoir Don't Take Your Love To Town; and co-deviser of Beautiful One Day with artists from ILBIJERRI, version 1.0, and the community of Palm Island.

For orchestral concert he has adapted and directed A Midsummer Night's Dream alongside Mendelssohn's score for the Sydney Symphony Orchestra and Belvoir St Theatre conducted by Simone Young, and directed and co-created Beethoven and Bridgetower with Anna Goldsworthy, Rita Dove and Richard Tognetti for the Australian Chamber Orchestra.

Cast

Peter Carroll


Firs

Peter's distinguished career has spanned over 90 productions. He continues to work in musical theatre, new Australian texts and the classics. For Belvoir, Peter has appeared in The Cherry Orchard, Life of Galileo, An Enemy of The People, Mark Colvin's Kidney, Twelfth Night, The Great Fire, Seventeen, A Christmas Carol, Oedipus Rex, Old Man, The […]

Read full bio

Peter Carroll

Peter's distinguished career has spanned over 90 productions. He continues to work in musical theatre, new Australian texts and the classics. For Belvoir, Peter has appeared in The Cherry Orchard, Life of Galileo, An Enemy of The People, Mark Colvin's Kidney, Twelfth Night, The Great Fire, Seventeen, A Christmas Carol, Oedipus Rex, Old Man, The Book of Everything, Happy Days, Hamlet, The Blind Giant is Dancing, The Tempest, The Chairs and Stuff Happens. His other theatre credits include The Tempest, Cat on a Hot Tin Roof, Mary Stuart, The Resistible Rise of Arturo Ui (Sydney Theatre Company); Krapp's Last Tape (State Theatre Company of South Australia/MONA FOMO tour); Girl from the North Country (GWB Entertainment), Last Man Standing, Into The Woods, Sweeney Todd (Melbourne Theatre Company), Chitty Chitty Bang Bang (TML Enterprises); Night on Bald Mountain (Malthouse Theatre); and No Man's Land (Queensland Theatre Company/Sydney Theatre Company). Peter's film credits include The Power of Dog, Sleeping Beauty, The Chant of Jimmie Blacksmith, Crazy Rich Asians, Happy Feet, Black and White. His various television credits includeThe Moth Effect, Aftertaste, The Letdown, Bloom, Rake, Grass Roots, Diamond of Jeru, Changi, The Farm, Farscape. Peter has won many awards including Green Room Awards, a Helpmann Award, a Sydney Theatre Critics' Circle Award, an Honorary Doctorate of Creative Arts and a Sydney Theatre Award for Best Performer in a Supporting Role (2022). Peter is the recipient of the Media Arts & Entertainment Alliance's Lifetime Achievement Award; and he continues to be a proud supporter of the union.

Priscilla Doueihy


Petya

Nadie Kammallaweera


Varya

Nadie appeared in Belvoir's critically acclaimed production of Counting and Cracking in 2019. In 2021, Nadie appeared in another Belvoir production, The Cherry Orchard, directed by Eamon Flack. Other theatre credits include Kalumali (Stages Theatre Group, Colombo), House of Bernada Alba (directed by Priyantha Sirikumara), Blood Wedding (directed by Kaushalya Fernando), Snow White and the […]

Read full bio

Nadie Kammallaweera

Nadie appeared in Belvoir's critically acclaimed production of Counting and Cracking in 2019.

In 2021, Nadie appeared in another Belvoir production, The Cherry Orchard, directed by Eamon Flack. Other theatre credits include Kalumali (Stages Theatre Group, Colombo), House of Bernada Alba (directed by Priyantha Sirikumara), Blood Wedding (directed by Kaushalya Fernando), Snow White and the Seven Dwarfs, Distortion, (Somalatha Subasinghe Play House, Colombo), and Mother Courage and Her Children (directed by Somalatha Subasinghe).

She has played Sister Suree in HBO's The Young Pope directed by Paolo Sorrentino. Other TV credits include Bedde Kulawamiya and Sansaare Piyasatahan, Wakefield for ABC Australia, and Series 2 and 3 of Bump for Stan Australia.

Film credits include This is My Moon(directed by Ashoka Handagama), August Sun (directed by Prasanna Vithanage), Paanghu (directed by Visakesa Chandrasekaram), A Strange Familiar (directed by Malith Hegoda), and Mother Teresa (directed by Fabrizio Costa).

Nadie has won a number of awards in Sri Lanka for her performances, including Best Supporting Actress in a movie 2021, Best Teledrama Actress 2018, Best Upcoming Actress (2004), Special Jury Award for Acting 2004, and Best Supporting Actress 2003.

Kirsty Marillier


Anya

Lucia Mastrantone


Charlotta

Lucia has a successful career in theatre, physical theatre, film, TV and as a voice artist. Select theatre credits include Sydney Theatre Company: The Harp in the South, Talk, Marriage Blanc, Romeo & Juliet. Belvoir: The Cherry Orchard, Atlantis, Twelfth Night, The Book of Everything, Scorched, Macbeth. Hayes Theatre: Young Frankenstein. Griffin: Window, Cricket Bat, […]

Read full bio

Lucia Mastrantone

Lucia has a successful career in theatre, physical theatre, film, TV and as a voice artist.  Select theatre credits include Sydney Theatre Company: The Harp in the South, Talk, Marriage Blanc, Romeo & Juliet. Belvoir: The Cherry Orchard, Atlantis, Twelfth Night, The Book of Everything, Scorched, Macbeth. Hayes Theatre: Young Frankenstein. Griffin: Window, Cricket Bat, Dead Cat Bounce, Kill Climate Deniers, Ladies Day. Darlinghurst Theatre: The Hypochondriac. Bell Shakespeare: The Duchess of Malfi. STCSA: The Merchant of Venice, VERONA. MTC: The Venetian Twins. Physical theatre: Shaun Parker Dancers: Blue Love. Legs on the Wall: Under The Influence (Edinburgh, Europe Tour). Urban Theatre: The Longest Night. TV: The Secrets She Keeps S2, The Letdown S1, Home and Away, Pacific Heat, Rake S3, Tangle. Film: Look Both Ways, Dog, Stealth, Spank, Blackrock. Director: Movement and Co-Director for The Baulkham Hills African Ladies Troupe Belvoir and Opera House. Awards: Humanitarian Of The Year Award, Oscars Critics Best Actress, Queen's Trust.

Mandela Mathia


Lopahkin

Sarah Meacham


Dunyasha

Sarah is a graduate of the University of Wollongong, Bachelor of Performance – Acting. Since graduating, her theatre credits include: The Cherry Orchard (Belvoir dir. Eamon Flack), First Love is the Revolution (Griffin Theatre Co.), Extinction of the Learned Response (Belvoir 25A, Glitterbomb dir. Carissa Licciardello), The Wolves (Belvoir and Redline Productions dir. Jessica Arthur) You Got […]

Read full bio

Sarah Meacham

Sarah is a graduate of the University of Wollongong, Bachelor of Performance – Acting. Since graduating, her theatre credits include: The Cherry Orchard (Belvoir dir. Eamon Flack), First Love is the Revolution (Griffin Theatre Co.), Extinction of the Learned Response (Belvoir 25A, Glitterbomb dir. Carissa Licciardello), The Wolves (Belvoir and Redline Productions dir. Jessica Arthur) You Got Older (Mad March Hare Theatre Co. dir. Claudia Barrie), Dry Land (Mad March Hare Theatre Co. and Outhouse Theatre Co. dir. Claudia Barrie), All Good Things (ATYP dir. Iain Sinclair) and Phedre (touring the Asia-Pacific Bureau Directors' Conference and Theatre Festival in Shanghai). In 2018, Sarah was awarded the Sydney Theatre Award for Best Female Actor in a Leading Role for an Independent Production (for Dry Land which received a total of 5 Sydney Theatre Award Nominations). Screen credits include: Significant Others (ABC), Bump (Stan), Parisian Jam (dir. Rohan Bates), Doggy (dir. Troy Baird) and Amelia in Amelia (dir. Abhiram Joshi). Sarah has been a proud member of Actors Equity since 2013.

Josh Price


Pischchick

Josh graduated from VCA in Acting in 2008 and quickly established himself in Melbourne theatre regularly performing for MTC, Malthouse and Chunky Move. Since moving to Sydney he has performed in A Streetcar Named Desire (Red Line/Old Fitz), Let The Right One In (Darlinghurst) The Cherry Orchard (Belvoir), Titus Andronicus (Bell Shakespeare) and Going Down […]

Read full bio

Josh Price

Josh graduated from VCA in Acting in 2008 and quickly established himself in Melbourne theatre regularly performing for MTC, Malthouse and Chunky Move. Since moving to Sydney he has performed in A Streetcar Named Desire (Red Line/Old Fitz), Let The Right One In (Darlinghurst) The Cherry Orchard (Belvoir), Titus Andronicus (Bell Shakespeare) and Going Down (STC/Malthouse). During 2020 Josh was part of Belvoir's Artists at Work program.  Other theatre includes The Violent Outburst That Drew Me to You (MTC), Complexity Of Belonging (MTC/Chunky Move), An Ideal Husband (MTC), Looking Glass (Fortyfive Downstairs), Antigone (Malthouse). The Good Person Of Szechuan (Malthouse/National Theatre of China), M+M (Melbourne Festival), The Histrionic (Malthouse/STC) and Elektra (Fraught Outfit/The Dog Theatre. Musical Theatre: Blue Angel (Big Hart), Margaret Fulton Queen Of The Desert (Theatreworks) and The Love Birds (Melbourne Festival). TV: Latecomers (SBS), After The Verdict (Nine Network), Molly (Seven Network) Australia On Trial (ABC), Underbelly: Infiltration (Nine Network) and City Homicide (Seven Network). Feature Films: You Can Say Vagina and John Doe: Vigilante.

Pamela Rabe


Ranevskaya

Pamela is one of Australia's most prolific and highly awarded actors. For her work in theatre and musicals, amongst numerous nominations, she has been awarded 3 Helpmann Awards for Best Actress for The Children, The Glass Menagerie and Grey Gardens, 8 Melbourne Green Room Awards, a Sydney Critics' Circle Award and a "Mo" Award. Other […]

Read full bio

Pamela Rabe

Pamela is one of Australia's most prolific and highly awarded actors.

For her work in theatre and musicals, amongst numerous nominations, she has been awarded 3 Helpmann Awards for Best Actress for The Children, The Glass Menagerie and Grey Gardens, 8 Melbourne Green Room Awards, a Sydney Critics' Circle Award and a "Mo" Award. Other notable credits include The Dance of Death, Ghosts, The Cherry Orchard, A Little Night Music, A Room of One's Own, The Wizard of Oz, Les Liaisons Dangereuses, and, while a founding member of the Sydney Theatre Company's Actors' Ensemble, several acclaimed productions including Mother Courage and Her Children, Benedict Andrews' The War of the Roses and The Season at Sarsaparilla, and Barry Kosky's The Lost Echo. Pamela has also directed plays for the Sydney Theatre Company, Melbourne Theatre Company and the Malthouse Theatre.

Her work in television includes The Secret Life of Us, Mercury, The Bite and Stingers, and most recently Wentworth, for which she won a Silver Logie award for Most Outstanding Actress in 2018, and the AACTA award for Best Lead Actress in a Television Drama in 2015. The final scene of the 5th season, in which her character Joan "The Freak" Ferguson meets her apparent demise was nominated for TV Moment of the Decade in the 2020 AACTA Awards. Recent television roles include Principal De Rossi in the mini-series The Hunting and Maude in Fucking Adelaide. Pamela has appeared in several feature films including Sirens alongside Hugh Grant and Sam Neill, Paradise Road, Vacant Possession, Cosi, and The Well, for which she won the 1997 AFI, Stockholm Film Festival and Variety Club awards for Best Actress.

Keith Robinson


Gaev

Jack Scott


Yepikhodov

Jack Scott will next be seen in the highly anticipated Network Seven series RFDS. He most recently appeared in the International Emmy Kids Award winning ABC series Hardball, ABC/HBO Max series Frayed and the feature film Hearts And Bones. Since graduating from the Western Australian Academy of Performing Arts in 2017, his other screen credits […]

Read full bio

Jack Scott

Jack Scott will next be seen in the highly anticipated Network Seven series RFDS. He most recently appeared in the International Emmy Kids Award winning ABC series Hardball, ABC/HBO Max series Frayed and the feature film Hearts And Bones.

Since graduating from the Western Australian Academy of Performing Arts in 2017, his other screen credits include the AFTRS Webseries Nanny Academy, ABC series Back In Very Small Business and Rosehaven, and Tonightly With Tom Ballard. Jack has also starred on stage in The Cherry Orchard for Belvoir, We Are Gods for NIDA, Necrophillia for JackRabbit Theatre, Cool Pool Party and Hamlet for Ban Shakesepare.

Jack has a strong comedy background performing in numerous improv shows with Improv Theatre Sydney, including at the Sydney Comedy Festival, the Sydney Fringe Comedy Festival and the Melbourne International Comedy Festival. While at WAAPA, he performed the roles of Mr Van Daan in The Diary Of Anne Frank and Tiger Brown in Threepenny Opera. He starred in the WA Screen Academy film Dark Horses, for which he won the Best Actor Award at the Next Gen Film Festival and the WA Unlocked Film Festival.

Charles Wu


Yasha

Charles Wu is one of Australia's most exciting actors of stage and screen. Charles graduated from NIDA in 2014 and is well known for his work on popular series Doctor Doctor. Charles' other television credits include Summer Love, The Letdown, Harrow, Here Come the Habibs, and Secret City. He was also seen in feature film […]

Read full bio

Charles Wu

Charles Wu is one of Australia's most exciting actors of stage and screen. Charles graduated from NIDA in 2014 and is well known for his work on popular series Doctor Doctor. Charles' other television credits include Summer Love, The Letdown, Harrow, Here Come the Habibs, and Secret City. He was also seen in feature film Australia Day, and web series Liberty Street.

Charles's theatre credits include The Cherry Orchard alongside Pamela Rabe, An Enemy of the People, Jasper Jones, Samson, The Overcoat: A Musical (Belvoir), The Lifespan of a Fact, Mosquitoes, The Resistible Rise of Arturo Ui, Three Sisters, Chimerica (Sydney Theatre Company), The Rise and Fall of Little Voice (Darlinghurst Theatre), Golden Blood (Griffin Theatre), and Torch the Place for which he won a Green Room award for Best Actor(Melbourne Theatre Company). Charles was most recently seen on stage in Bernhardt/Hamlet as 'Edmond Rostand' for the Melbourne Theatre Company.

Creatives

Romanie Harper


Set & Costume Designer

Romanie Is a set and costume designer based in Melbourne. Her recent design credits include The Cherry Orchard, Packer and Sons (Belvoir Street Theatre), Sunshine Super Girl (Sydney Festival and Performing Lines), Runt (fortyfive downstairs), What Am I Supposed to Do? and Equinox (Deep Souful Sweats), Australian Realness, Trustees, Good Muslim Boy, Little Emperors and […]

Read full bio

Romanie Harper

Romanie Is a set and costume designer based in Melbourne. Her recent design credits include The Cherry Orchard, Packer and Sons (Belvoir Street Theatre), Sunshine Super Girl (Sydney Festival and Performing Lines), Runt (fortyfive downstairs), What Am I Supposed to Do? and Equinox (Deep Souful Sweats), Australian Realness, Trustees, Good Muslim Boy, Little Emperors and Turbine (Malthouse), The Violent Outburst That Drew Me To You (MTC), Die! Die! Die! Old People Die!, We All Know Whats Happening and Never Trust A Creative City (Arts House), Contest and Moral Panic (Darebin Speakeasy), Bottomless, This Is Eden, Resident Alien and Triumph (fortyfive downstairs), Conviction (ZLMD Shakespeare), M+M (Daniel Schlusser Ensemble), The Sovereign Wife (Sisters Grimm, NEON), META (Malthouse Helium), The Bitter Tears of Petra Von Kant and Bright World (Theatre Works), and Madonna Arms (Next Wave). In New York she has worked with The Wooster Group, and co-designed Radiohole's Inflatable Frankenstein (The Kitchen).

Nick Schlieper


Lighting Designer

Nick Schlieper has designed for all of the major performing arts companies in Australia, and works regularly in Europe and the USA. He is one of Australia's most highly awarded designers having received seven Sydney Critics Awards (two for set design and 5 for lighting design), six Melbourne Green Room Awards, the inaugural 2013 Australian […]

Read full bio

Nick Schlieper

Nick Schlieper has designed for all of the major performing arts companies in Australia, and works regularly in Europe and the USA. He is one of Australia's most highly awarded designers having received seven Sydney Critics Awards (two for set design and 5 for lighting design), six Melbourne Green Room Awards, the inaugural 2013 Australian Production Designers Guild Best Lighting Design Award, as well as 5 Helpmann Awards for best lighting and a 2016 Nomination for Best Lighting and Best Set (with Simon Phillips) for North by Northwest.

Recent productions for Belvoir include Opening Night, Packer & Sons, Ghosts, Twelfth Night and set and lightingfor Once In Royal David's City.

His many productions for Sydney Theatre Co include The Tempest, Strange Case of Jekyll & Hyde, Playing Beatie Bow (which recently re-opened the Wharf), Dorian Gray, Wonnangatta,The Harp In The South, Chimerica, Macbeth, St Joan, The Resistable Rise of Arturo Ui, The War of the Roses, The Season At Sarsaparilla, The Maids and Gross und Klein, as well as set and lightingfor Endgame, Face To Face and Baal. For Melbourne Theatre Co, his work includes As You Like It, Twelfth Night, Macbeth, Richard III, Hamlet, The Tempest and The Visit, as well as set and lighting for North By Northwest (with Simon Phillips), Photograph 51 and Death and The Maiden.

His international work includesproductions of Lear and Medeé for the Salzburg Festival, Billy Budd and A Midsummer Night's Dream at the Hamburg State Opera; The Devils of Loudun at the Bayerische Staatsoper, Munich; The Hostage for the Royal Shakespeare Company; The Government Inspector for Theatr Clwyd; Waiting for Godot at The Barbican, London; Armut, Reichtum, and The Ginger Man for Deutsches Schauspielhaus in Hamburg; Kasimir und Karoline and Lea's Hochzeit in Vienna; U.F.A. Revue in Berlin and the Kennedy Centre Washington; Michael Kramer and Ein Florentinerhut in Berlin; Michael Bogdanov's productions of Macbeth and Peer Gynt for the State Theatre of Bavaria; Uncle Vanya and Private Confessions (both directed by Liv Ullman for The National Theatre of Norway) Aristokraten in Stuttgart; Away and Summer of the Seventeenth Doll at the Summerfare Festival in New York and Hedda Gabler, Streetcar Named Desire, Uncle Vanya and The Maids, allwith Cate Blanchett, also in New York. His lighting designs for The Present and Priscilla, Queen of the Desert have been seen on Broadway and Gross und Klein also travelled to Paris, London and Vienna.

He has lit many productions for Opera Australia and was lighting and associate set designer for the first Australian production of The Ring Cycle in Adelaide.

Nick'swork in Music Theatre includes Priscilla Queen of the Desert, The Musical in Australia, on Broadway, the West End, Toronto, Sao Paolo and throughout Europe; Love Never Dies in Hamburg, Tokyo, Sydney, Melbourne and a US national tour for The Really Useful Company.

His designs for Bangarra Dance Theatre includes their acclaimed productions of Bennelong, Patyegarang and Bush.

Stefan Gregory


Composer & Sound Designer

Stefan Gregory is an Australian composer and sound designer for theatre, dance and film. His recent productions include: Medea (Brooklyn Academy of Music, NY), Yerma (The Young Vic, London), Medea, Ibsen Huis, Husbands And Wives (Toneelgroep Amsterdam), Drei Schwestern, Engel In Amerika, Medea (Theatre Basel), Trilogie de Vengeance, Les Trois Soeurs (L'Odeon, Paris), Avalanche (Barbican, […]

Read full bio

Stefan Gregory

Stefan Gregory is an Australian composer and sound designer for theatre, dance and film. His recent productions include: Medea (Brooklyn Academy of Music, NY), Yerma (The Young Vic, London), Medea, Ibsen Huis, Husbands And Wives (Toneelgroep Amsterdam), Drei Schwestern, Engel In Amerika, Medea (Theatre Basel), Trilogie de Vengeance, Les Trois Soeurs (L'Odeon, Paris), Avalanche (Barbican, London), There Is Definitely A Prince Involved (Australian Ballet, Melbourne), L'Chaim (Sydney Dance Company), Wonangatta, Cat On A Hot Tin Roof, Arturo Ui (Sydney Theatre Company), The Present (Broadway, NY), Counting And Cracking, The Wild Duck, Thyestes (Belvoir St Theatre, Sydney), The Dig (Netflix). He has worked with many esteemed directors and choreographers, including Simon Stone, John Crowley, Neil Armfield, Benedict Andrews, Anne-Louise Sarks, Eamon Flack, Kip WIlliams, Gideon Obarzanek, Matthew Lutton, Ralph Myers, Angelica Mesiti.

Stefan has won two Sydney Theatre awards, and OBIE, was nominated for a drama desk award, has received a Sidney Myer Fellowship and has won a Helpmann award.

Stefan was a band member of Faker from 2004-2009, which achieved a platinum release with This Heart Attack and was nominated for several ARIA awards (Australian Recording Industry Association).

Stefan has a degree in pure mathematics (Hons. 1st) from the University of Sydney and also studied at the Sydney Conservatorium of Music, but did not finish his diploma.

The son of science teachers and amateur folk musicians, Stefan grew up in a steel agricultural shed on a bushland property in the hinterland of Sydney with no electricty and a pet wallaby called Basil, where he nearly died from a red back spider bite at the age of nine.

Elle Evangelista


Choreographer

Elle Evangelista loves dancing. Her BELVOIR choreography credits include The Cherry Orchard, The Boomkak Panto, The Rep Season and A Midnight Summer's Dream with the Sydney Symphony Orchestra. Her other theatre choreography credits include Twelfth Night (Bell Shakespeare), A Very Expensive Poison (NIDA) and How To Catch A Star (Australian Chamber Orchestra). As a dancer […]

Read full bio

Elle Evangelista

Elle Evangelista loves dancing. Her BELVOIR choreography credits include The Cherry Orchard, The Boomkak Panto, The Rep Season and A Midnight Summer's Dream with the Sydney Symphony Orchestra. Her other theatre choreography credits include Twelfth Night (Bell Shakespeare), A Very Expensive Poison (NIDA) and How To Catch A Star (Australian Chamber Orchestra).

As a dancer she has worked for Force Majeure, KAGE Physical Theatre, Opera Australia and she has been awarded residencies to create new work by Ausdance NSW, DirtyFeet, Critical Path, March Dance, Brand X and Supercell Festival of Contemporary Dance. From 2019 – 2021, Elle was an Artist Representative on the Board of Critical Path and in 2022 a Belvoir Artistic Associate.

Elle has a Bachelor of Arts in English from UWA and a Bachelor of Arts in Dance from WAAPA. She was raised on Boorloo/Perth by her Filipino and Burmese family and currently lives on Garigal Land in Sydney with her partner and their young son.

Nigel Poulton


Fight & Movement Director

Nigel is an award-winning fight, movement, and intimacy director, SAG-AFTRA stunt performer and actor with over 17 years of national and international experience. Stage work includes: Stop Girl, Cursed!, Packer and Sons, Things I Know To Be True, Counting and Cracking, The Dance of Death, Sami in Paradise, The Sugar House, A Taste of Honey, Scorched(Belvoir); Prize Fighter (Belvoir/La Boite); Hamlet, Much […]

Read full bio

Nigel Poulton

Nigel is an award-winning fight, movement, and intimacy director, SAG-AFTRA stunt performer and actor with over 17 years of national and international experience. Stage work includes: Stop Girl, Cursed!, Packer and Sons, Things I Know To Be True, Counting and Cracking, The Dance of Death, Sami in Paradise, The Sugar House, A Taste of Honey, Scorched(Belvoir); Prize Fighter (Belvoir/La Boite); Hamlet, Much Ado About Nothing, The Miser, Antony and Cleopatra, Romeo and Juliet, Richard III (Bell Shakespeare); Grand Horizons, Appropriate, Playing Beatie Bow, The Picture of Dorian Gray, The Deep Blue Sea, Beauty Queen of Leenane, Lord of the Flies, Cat on a Hot Tin Roof, How to Rule the World, Harp in the South, Mary Stuart, Blackie Blackie Brown, A Cheery Soul, Accidental Death of an Anarchist, The Long Forgotten Dream, Saint Joan, The Resistible Rise of Arturo Ui, Dinner, Black is the New White, Speed the Plow, The Golden Age, The Present, Cyrano de Bergerac, Switzerland, Macbeth, Romeo and Juliet, Noises Off (STC); Spartacus (The Australian Ballet); Romeo and Juliet (New York City Ballet); Faust, Carmen, Tosca, La Boheme, Krol Roger, Cavalleria Rusticana / Pagliacci (Opera Australia); Triple X, Hydra (Queensland Theatre), Jasper Jones, Noises Off (Queensland Theatre/Melbourne Theatre Company); Singin' in the Rain (Dainty Group International), Les Miserables (Cameron Mackintosh); Don Giovanni, Carmen, Il Trovatore (The Metropolitan Opera). Nigel's film and television work includes: Pirates of the Caribbean V, Deadline Gallipoli, The Water Diviner, The Bourne Legacy, Vikingdom, The Good Wife & Boardwalk Empire. Nigel was intimacy co-ordinator for the online series Ding Dong, I'm Gay and feature film Spiderhead.

Danielle Roffe


Voice Coach

Danielle is an international voice and dialect coach, working in theatre film and TV as well as with a range of corporate clients. She is currently based in Sydney where she lives with her husband, two children and a groodle. She is drawn to voice as the conduit for hearing people's stories. Previous work includes: […]

Read full bio

Danielle Roffe

Danielle is an international voice and dialect coach, working in theatre film and TV as well as with a range of corporate clients.  She is currently based in Sydney where she lives with her husband, two children and a groodle.  She is drawn to voice as the conduit for hearing people's stories.  Previous work includes:  Belvoir: Miss Julie, Gethsemane, That Face, The Power of Yes, Stories I Want to Tell You, In Person, Lonesome West. Other Theatre: Sydney Theatre Company: Home I'm Darling, Appropriate, Playing Beatie Bow, The Picture of Dorian Gray, Rules for Living, Wonnangatta, Pygmalion, Tusk Tusk (with ATYP), Like a Fishbone (with Griffin TC). Sydney Opera House: South Pacific, The History Boys. Old Fitz: Anatomy of a Suicide. Darlinghurst Theatre: The Pride. Film: The Drover's Wife, Fantasy Island, Lego Ninjago Movie, Alien Covenant, Hacksaw Ridge, Crouching Tiger Hidden Dragon: The Green Legend, 2:22, The Daughter, Stranger Land, Backtrack, Slow West, Adore, Lemon Tree Passage, Wolf Creek 2, Evil Dead, Careless Love, Killer Elite, Uninhabited, Not Suitable for Children, Lagaan, The Search for John Gissing, Best: His Mother's Son, Slaughter, Outcast. TV: Black Comedy,  Easybeats, Doctor Doctor, Banished, Underbelly, My Kitchen Rules, The Scouting Book for Boys, Holby City, Eastenders, The Bill. Positions: Teaching positions at NIDA, Actors' Centre, Central School of Speech and Drama, Drama Centre, Mountview Academy of Theatre Arts and Theatre Academy of Live and Recorded Arts. Training: Central School of Speech and Drama

Khym Scott


Stage Manager

Jessie Byrne


Assistant Stage Manager
Production images images by
Brett Boardman
Rehearsal images images by
Brett Boardman