Stop
Girl
by Sally Sara
Directed by Anne-Louise Sarks
Venue

Upstairs Theatre

Dates

20 March – 25 April 2021

Duration

1 Hour 40 Minutes (approx.) No Interval
Content warning

Stop Girl includes loud noises, references to trauma, violence, mental illness and contains some strong language.

Should you wish to speak to a member of staff regarding running times, content warnings or any other show related queries, our box office can be contacted on 02 9699 3444.

If Stop Girl raises any concerns for you following the performance, Lifeline offers a 24 hour counselling service and can be reached at 13 11 14. Additional information can be found on their website, www.lifeline.org.au. Other services which may be of assistance include mental health advocacy organisation,  Beyond Blue (www.beyondblue.org.au, 1300 224 636), and youth mental health foundation, Headspace (www.headspace.org.au). You may also consider speaking to a trusted source or engaging your local GP.
Supported by

Principal Partner
A new play about the front lines of normal life.
Suzie's at the top of her game. She's devoted the best years of her life to reporting from the dangerous front lines all over the world.
But even the most resilient foreign correspondents need to come home one day. What happened to Australia while she was away? And what happened to her?
A ratbaggy, wise play by a writer who's seen it all first hand, and has learnt how to ask the pointed questions.
I'm sure everyone's familiar with Sally from her work at the ABC. She's lived more than most of us would if we had several lifetimes. And her play is a remarkable debut. It's about our complicated world, and it's full of heart.
– Eamon Flack
Stop Girl is the proud recipient of the Blake Beckett Trust Award.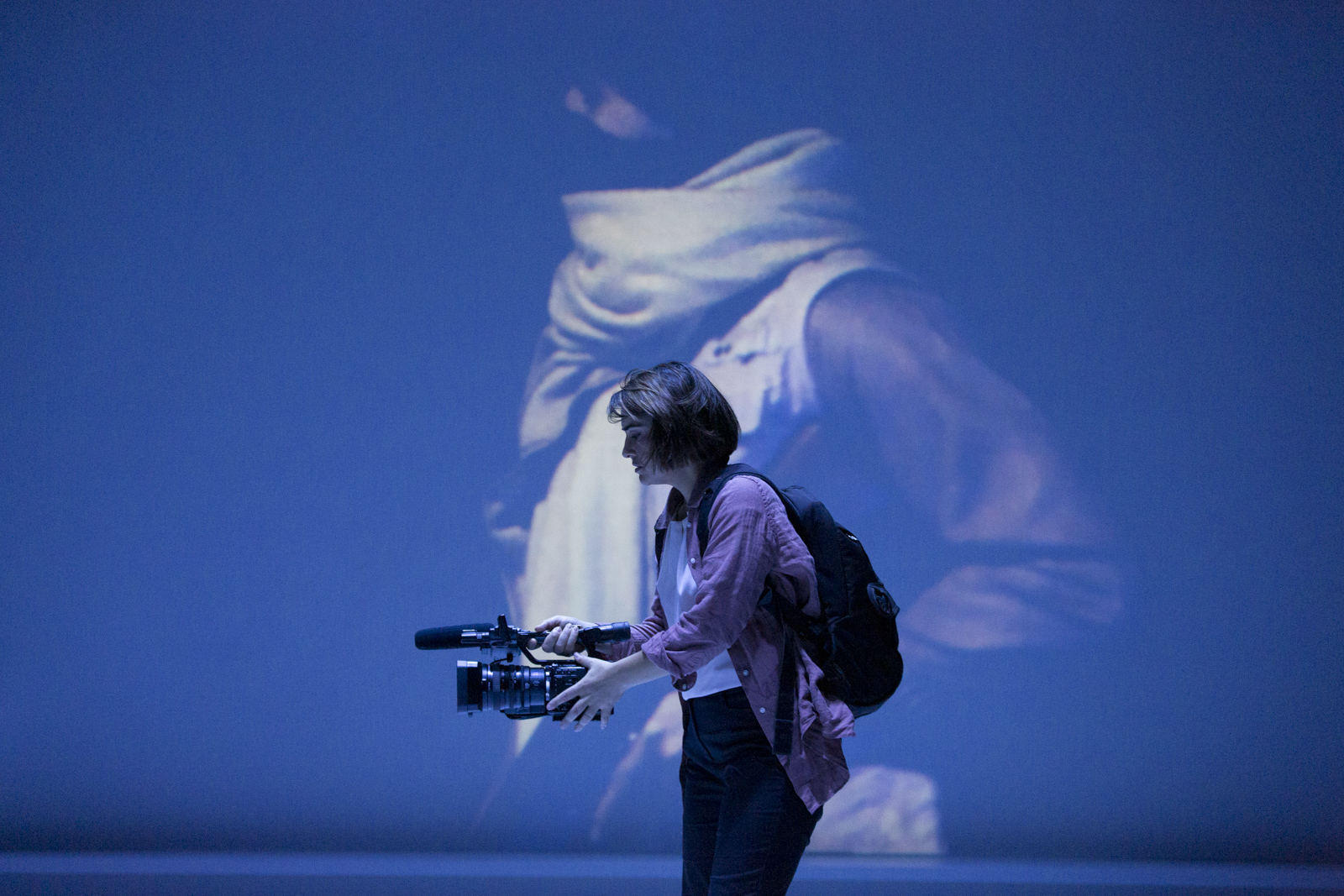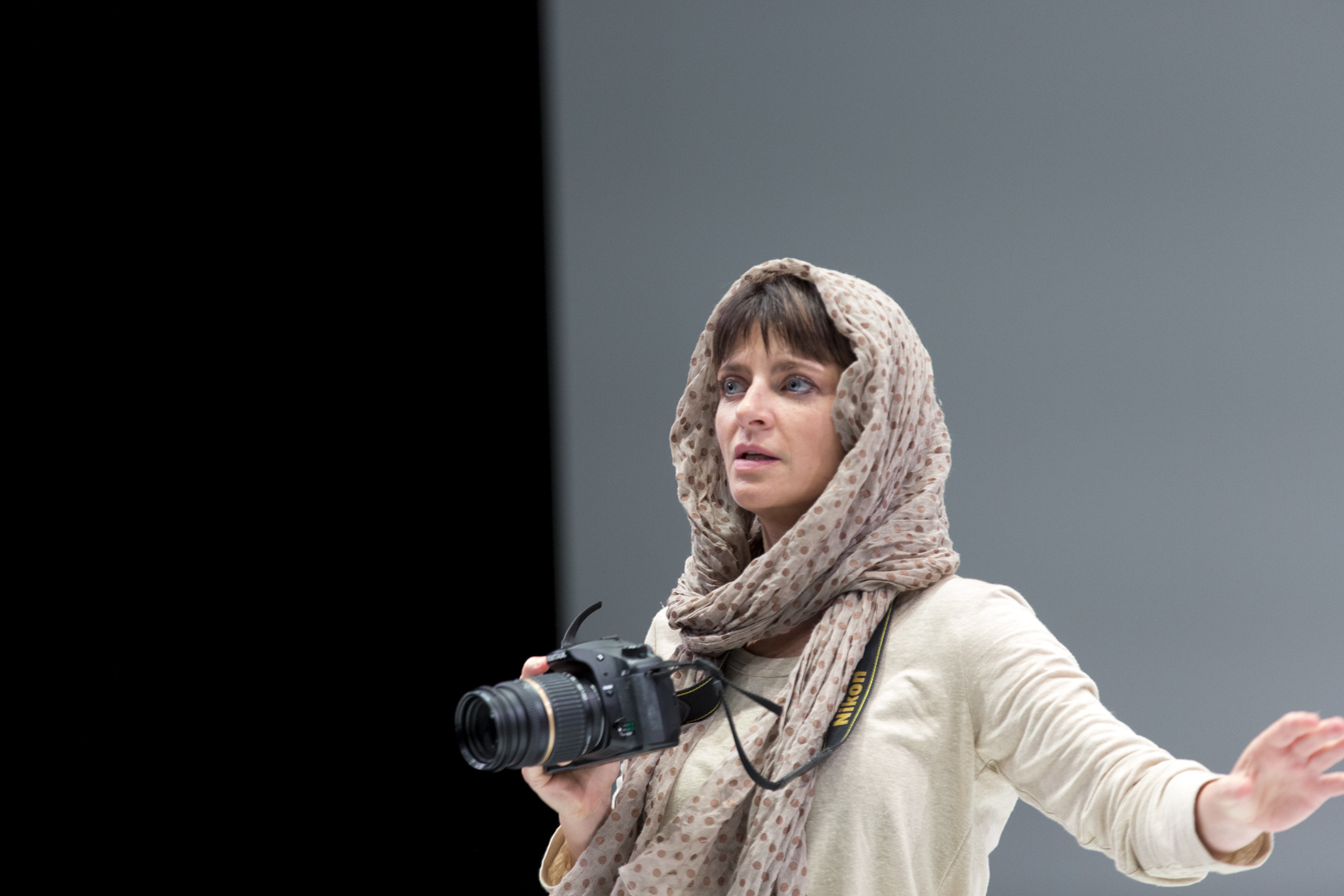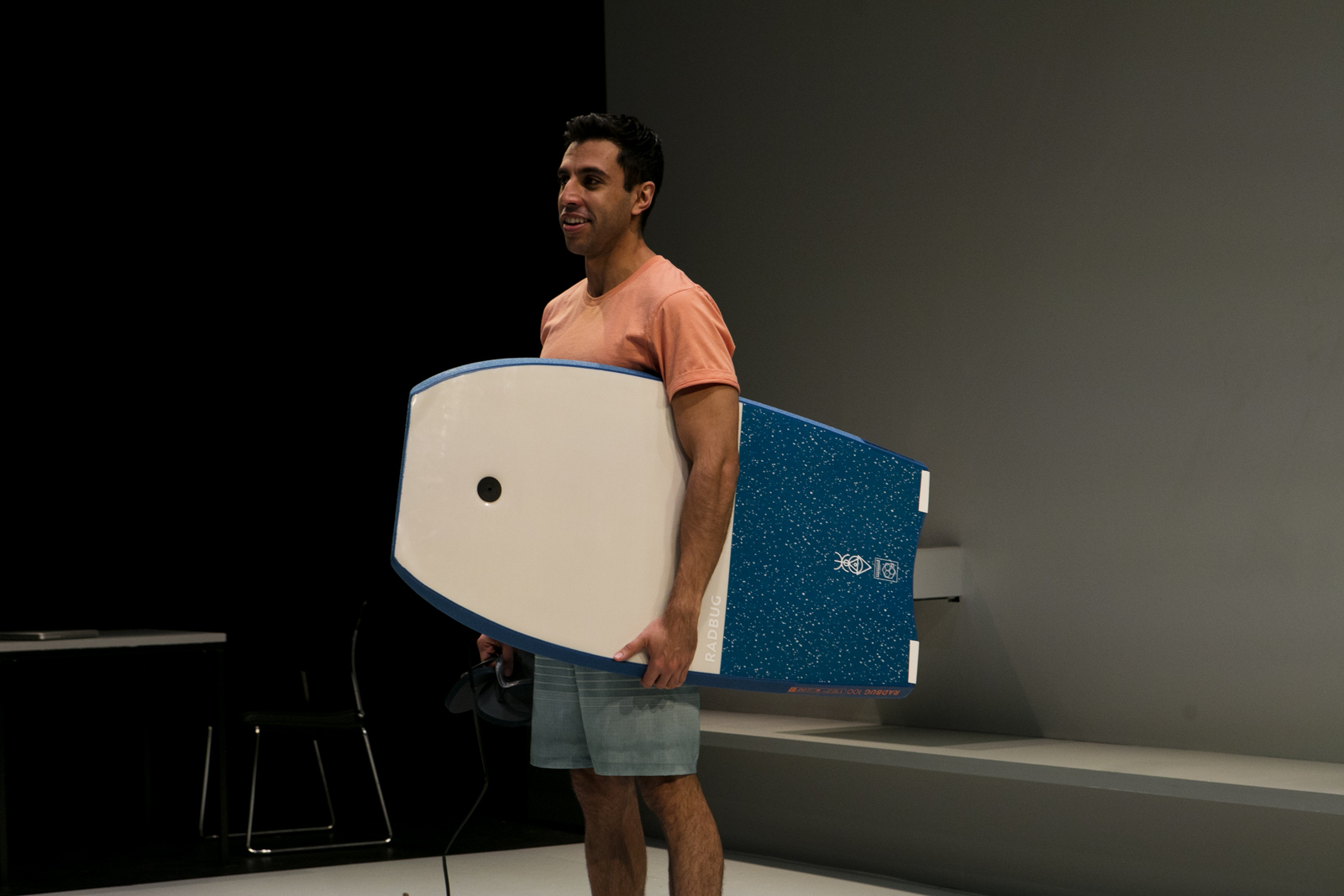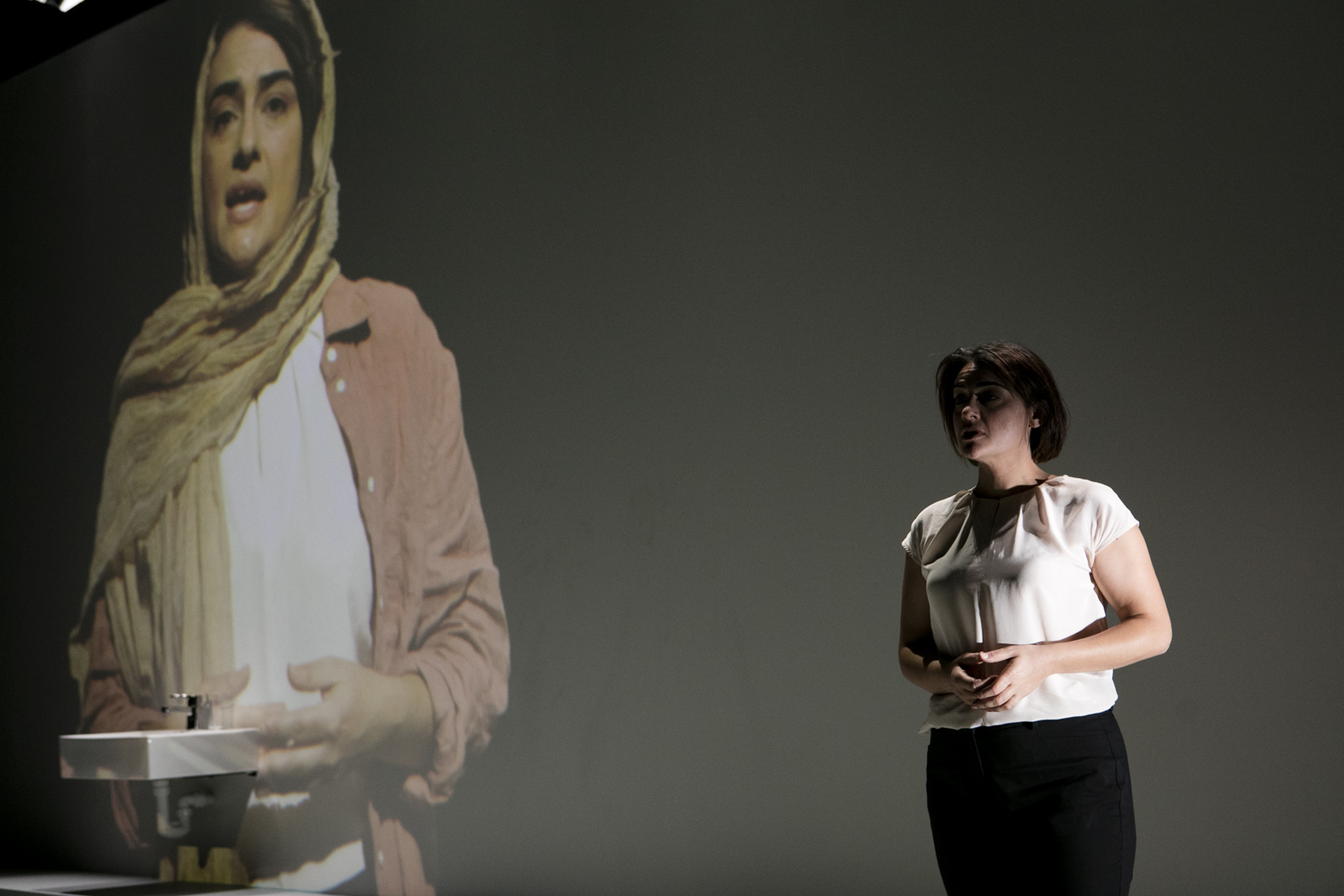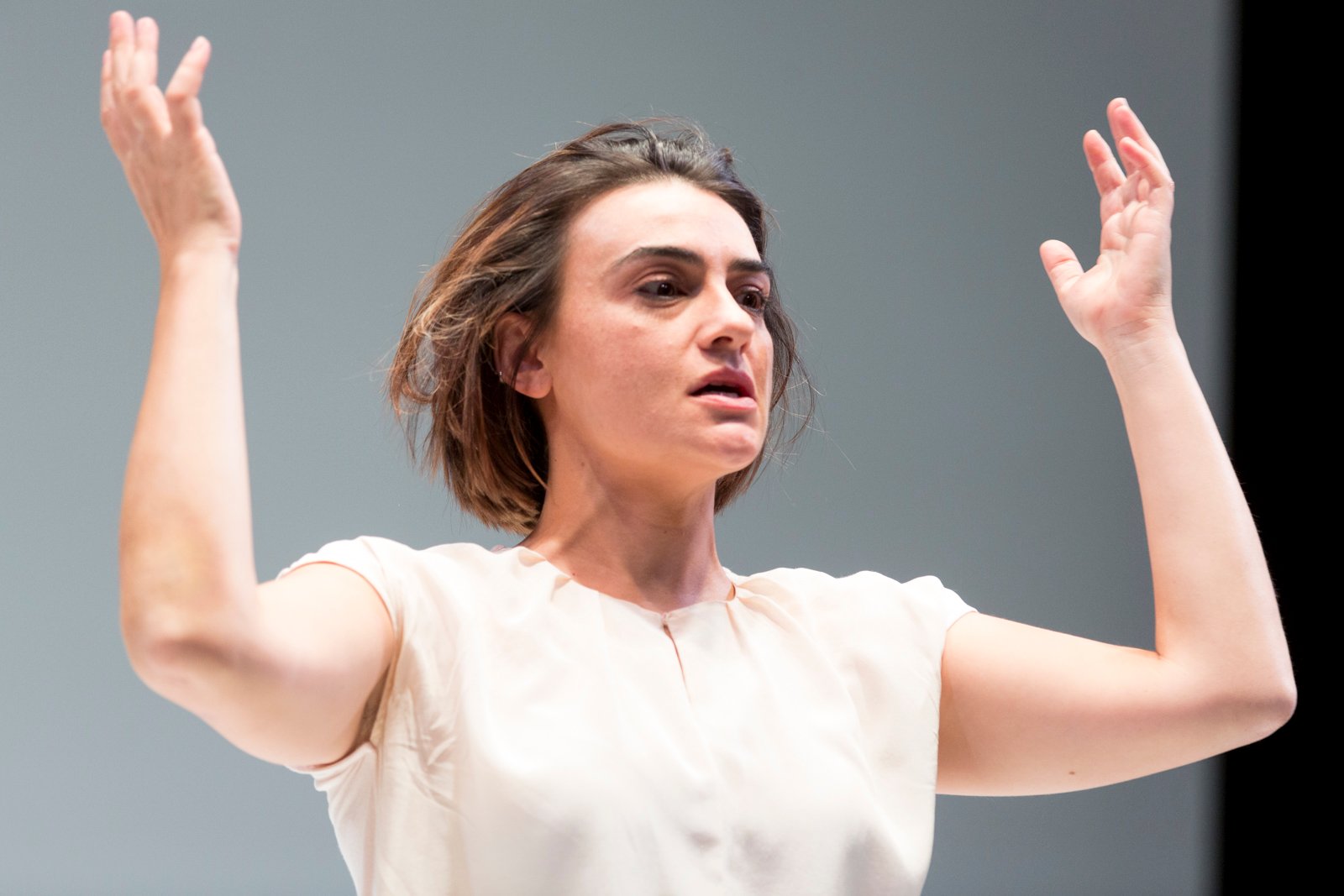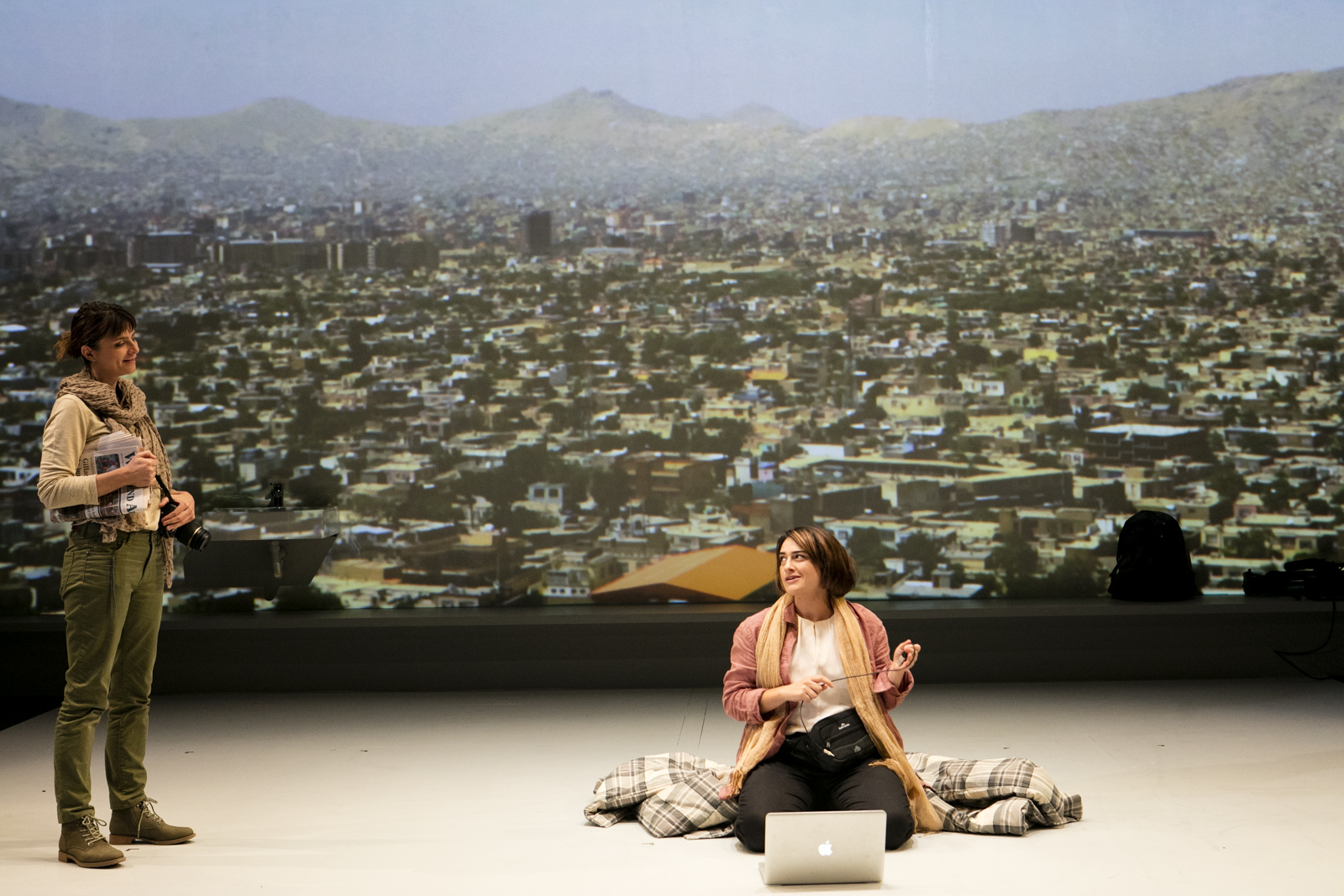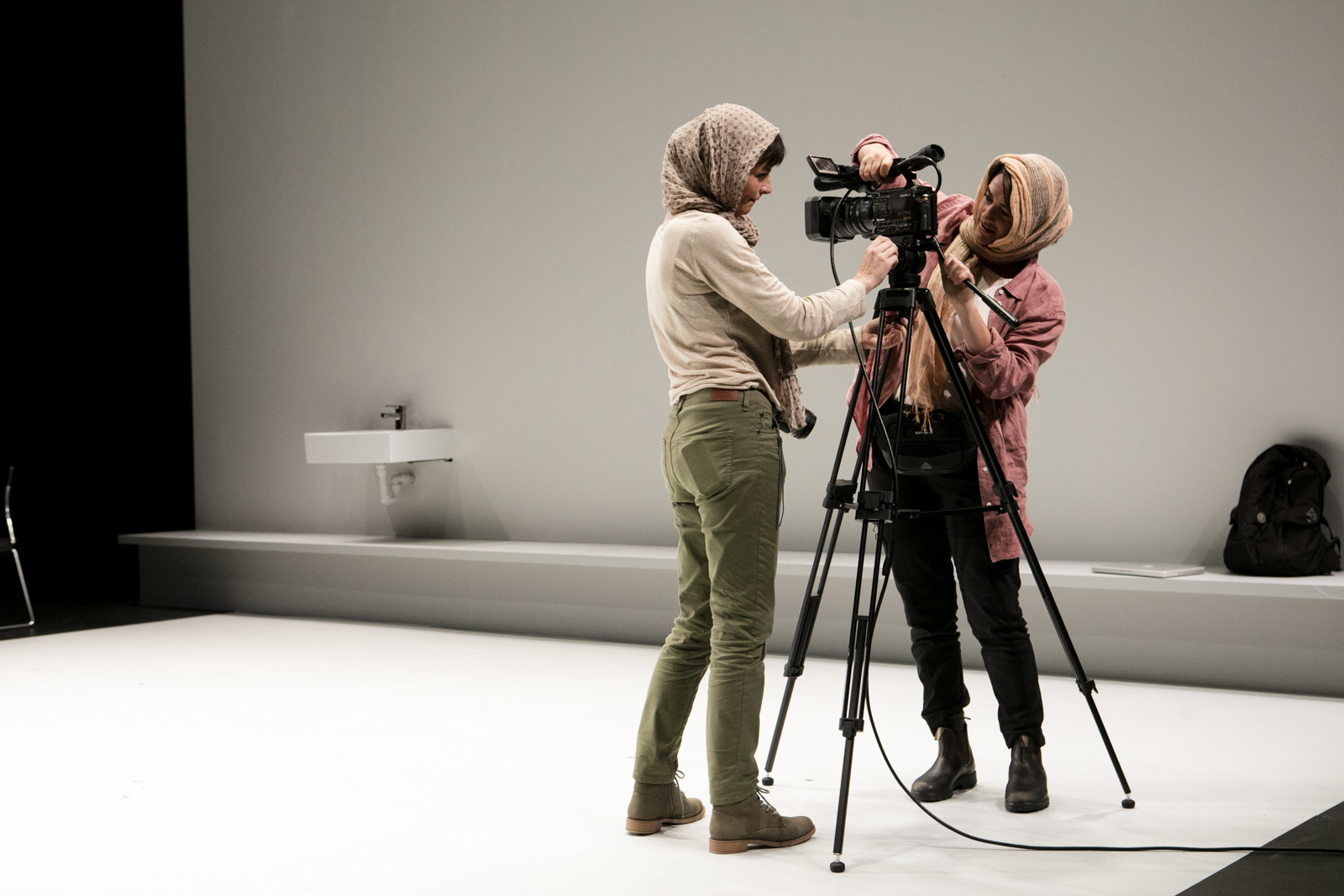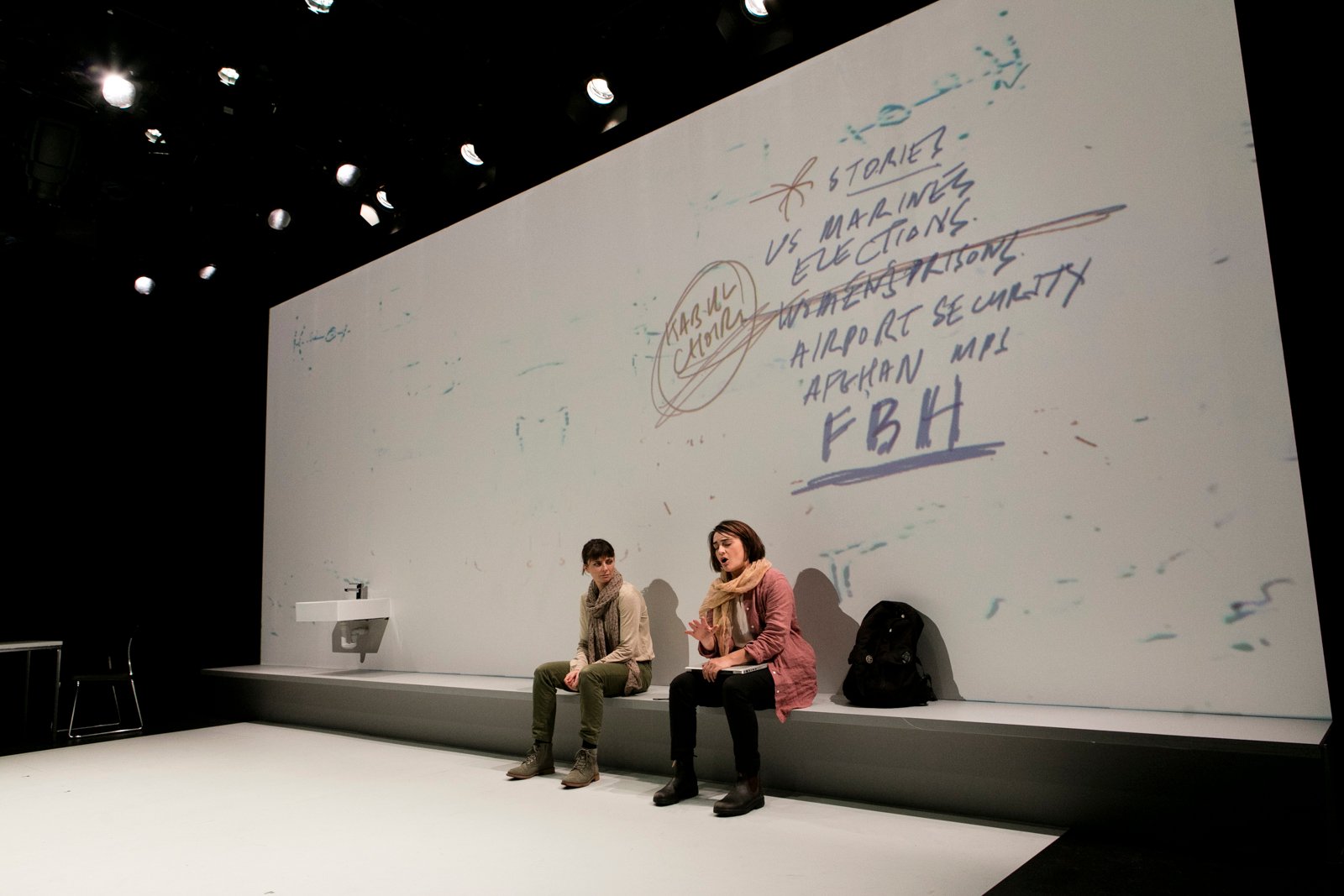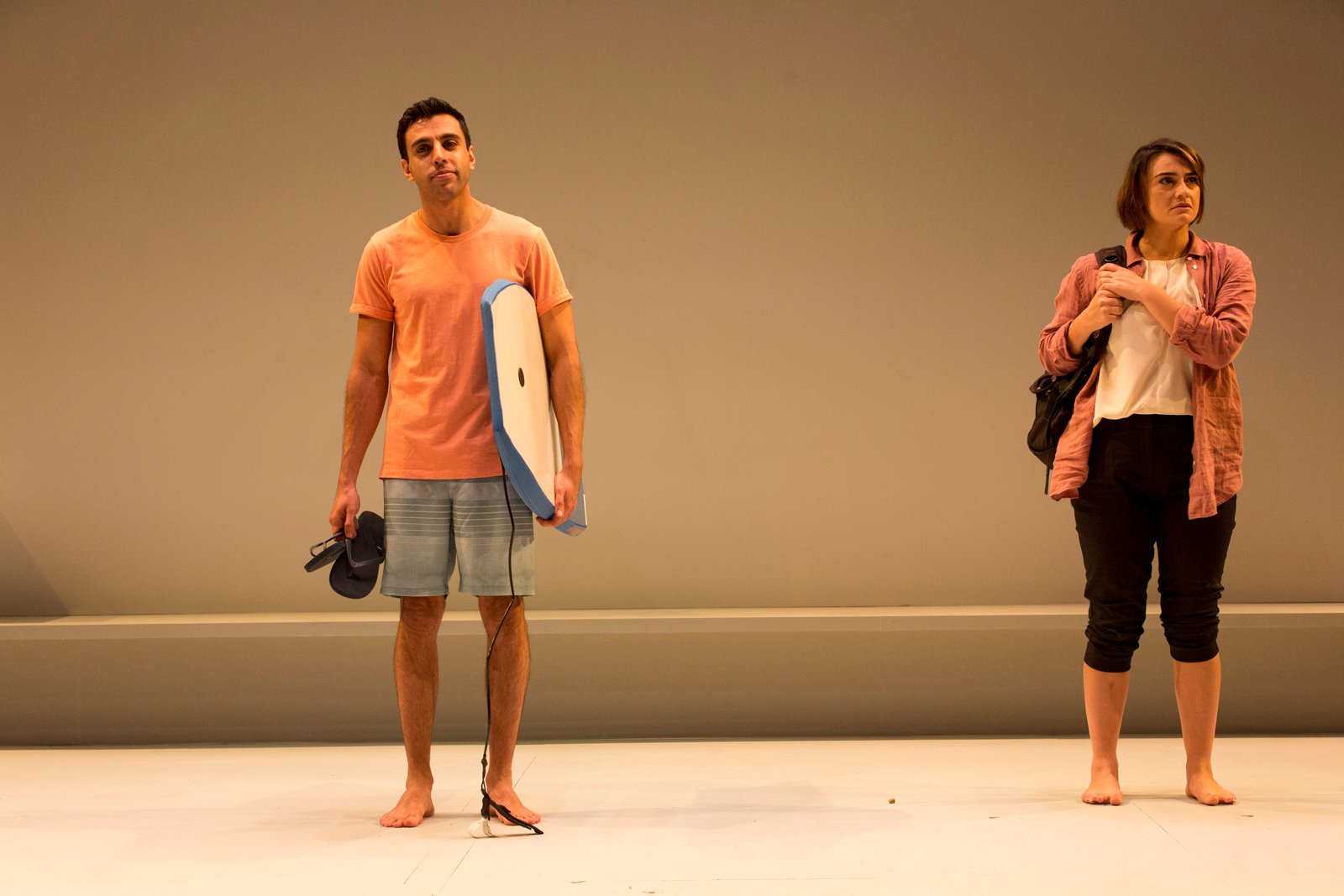 TEAM
Sally Sara


Writer

Deborah was last at Belvoir in Company B's Greek Tragedy. Other theatre credits include: Wicked Sisters (Griffin), Lady Tabouli (National Theatre Of Parramatta/Sydney Festival), Gods Of Strangers (State Theatre Company South Australia), The God Committee, Heartbreak Kid (Ensemble/tours), The Shearston Shift (Sydney Theatre Company/Australian People's Theatre/tours), I'm With Her, The Mystery of Love & Sex (Darlinghurst Theatre Company)

Read full bio

Sally Sara

Sally is a Walkley award-winning journalist, writer and author.

Sally has reported from more than 40 countries as a foreign correspondent with the ABC, including Iraq, Afghanistan and Sierra Leone. She was the first female correspondent to be appointed to the ABC's Johannesburg, New Delhi and Kabul bureaus.

Sally is an eight-time Walkley Award finalist and won for her television reporting on the famine in Somaliland. In 2018, she was a finalist in the Graham Perkin Award – Australian Journalist of the Year.

Sally has won four UN Media Awards and been nominated for the AACTA and Logie Awards. In 2007 she was selected as the International Women's Media Foundation Elizabeth Neuffer Fellow in Washington DC. She was Queensland Journalist of the Year and SA Young Journalist of the Year.

Sally has written for the New York Times and Boston Globe. Her book, GOGO MAMA, profiled the lives of 12 African women and was long-listed for the Walkley Non-Fiction Book Award.

In 2011, Sally was appointed as a Member of the Order of Australia, AM, for service to journalism and the community.

Stop Girl is her first play.

Anne-Louise Sarks


Director

Deborah was last at Belvoir in Company B's Greek Tragedy. Other theatre credits include: Wicked Sisters (Griffin), Lady Tabouli (National Theatre Of Parramatta/Sydney Festival), Gods Of Strangers (State Theatre Company South Australia), The God Committee, Heartbreak Kid (Ensemble/tours), The Shearston Shift (Sydney Theatre Company/Australian People's Theatre/tours), I'm With Her, The Mystery of Love & Sex (Darlinghurst Theatre Company)

Read full bio

Anne-Louise Sarks

Deborah was last at Belvoir in Company B's Greek Tragedy. Other theatre credits include: Wicked Sisters (Griffin), Lady Tabouli (National Theatre Of Parramatta/Sydney Festival), Gods Of Strangers (State Theatre Company South Australia), The God Committee, Heartbreak Kid (Ensemble/tours), The Shearston Shift (Sydney Theatre Company/Australian People's Theatre/tours), I'm With Her, The Mystery of Love & Sex (Darlinghurst Theatre Company), Meta

Anne-Louise works internationally as a director, writer and dramaturg. Her work for Belvoir includes Jasper Jones, Seventeen, Stories I Want To Tell You In Person, Nora, Elektra/Orestes and Medea. She was Resident Director at Belvoir from 2013-2015.

In 2019 she directed Avalanche for The Barbican Centre (London) and Sydney Theatre Company. In 2018 she was Artistic Director of the Lyric Ensemble at the Lyric Hammersmith (UK), directed a new production of her acclaimed Medea for Theater Basel (CH), directed a new adaptation An Enemy Of The People for Belvoir, and her production of Sarah Kane's Blasted at Malthouse was nominated for four green room awards including Best Director.

Medea won five 2013 Sydney Theatre Awards. It was also awarded an AWGIE for Best Stage Play and in 2013 was nominated for four Helpmann Awards including Best Direction, Best New Australian Work and Best Play. In 2015 Anne-Louise directed a re-imagining of Medea at The Gate Theatre, London.

In 2011 she was Director in Residence at Malthouse Theatre Company, and from 2010-2013 Anne-Louise was Artistic Director of acclaimed Melbourne based independent theatre company The Hayloft Project.

Cast

Deborah Galanos


For Belvoir, Deborah was seen in Stop Girl, The Boomkak Panto and 25A's Son of Byblos. Other theatre credits: Greek Tragedy (Belvoir Company B), Wicked Sisters (Griffin), Lady Tabouli (National Theatre Of Parramatta/Sydney Festival), Gods Of Strangers (State Theatre Company South Australia), The God Committee, Heartbreak Kid (Ensemble), I'm With Her, The Mystery of Love & Sex (Darlinghurst Theatre Company), Antigone (Sport For Jove), Metamorphoses (Apocalypse/Old Fitz), Unfinished Works, Homesick (Bontom/Seymour/505), Seagull (Secret House), Dropped (The Goods Theatre Company/Old […]

Read full bio

Deborah Galanos

For Belvoir, Deborah was seen in Stop Girl, The Boomkak Panto and 25A's Son of Byblos. Other theatre credits: Greek Tragedy (Belvoir Company B), Wicked Sisters (Griffin), Lady Tabouli (National Theatre Of Parramatta/Sydney Festival), Gods Of Strangers (State Theatre Company South Australia), The God Committee, Heartbreak Kid (Ensemble), I'm With Her, The Mystery of Love & Sex (Darlinghurst Theatre Company), Antigone (Sport For Jove), Metamorphoses (Apocalypse/Old Fitz), Unfinished Works, Homesick (Bontom/Seymour/505), Seagull (Secret House), Dropped (The Goods Theatre Company/Old Fitz), House of Ramon Iglesia (MopHead/Old Fitz), Who's Afraid of Virginia Woolf? (theatrongroup), Mum's The Word (Burberry Productions/Australian tours/SOH Playhouse/Glen Street), A Kind of Alaska, Suddenly Last Summer, Hotel Hibiscus (NIDA company), Boswell for the Defence (Sydney Festival), The Shearston Shift (STC/Australian People's Theatre). Television credits: Children's Hospital, My Place, Police Rescue, G.P., Pulse, Rake, Redfern Now (ABC); Camp (NBC/Matchbox); Murder Call (Nine Network); A Country Practice, All Saints, Home & Away (Seven Network).

Film credits: Chasing Comets, Balls, Boys From The Bush, Cavity, Inside Out, No Worries, The Premonition, and Razzle Dazzle.

A NIDA, Trinity College London, and Sydney University graduate, Deborah's been nominated for several Sydney Theatre Awards and is a proud MEAA Member since 1990.

Sheridan Harbridge


Sheridan is an actor, playwright, singer and comedienne, graduating from NIDA in 2006. She penned the musical Songs for the Fallen, which won Best Musical and Outstanding Actress at the New York Music Theatre Festival in 2015, and has toured in Sydney and Brisbane Festival, Arts Centre Melbourne, and New Zealand major arts festivals. In 2016, she was a […]

Read full bio

Sheridan Harbridge

Sheridan is an actor, playwright, singer and comedienne, graduating from NIDA in 2006. She penned the musical Songs for the Fallen, which won Best Musical and Outstanding Actress at the New York Music Theatre Festival in 2015, and has toured in Sydney and Brisbane Festival, Arts Centre Melbourne, and New Zealand major arts festivals. In 2016, she was a member of the Griffin Studio, which culminated in her developing and directing Nosferatutu, or Bleeding at the Ballet as part of the Griffin Independent Season.

She collaborated with UK cult band The Tiger Lillies on Cockatoo Island for the Biennale of Sydney, and appeared with John Cleese in the Just for Laughs Festival, Sydney Opera House. Her theatre credits include The Sugar House, Girl Asleep, The Dog/The Cat (Belvoir St Theatre), Queen Fatima (Sydney Festival), Prima Facie(Griffin Theatre Company), Frida Lyngstad in Muriel's Wedding the Musical (Sydney Theatre Company) North by Northwest, The Beast,and The Speechmaker (Melbourne Theatre Company), Gaybies(Darlinghurst Theatre), Kill Climate Deniers, Jump for Jordan(Griffin Theatre Company), 80 Minutes No Interval (Old Fitz), Hip Bone Sticking Out, Blue Angel (Big hArt), Detective's Handbook, You're a Good Man Charlie Brown (Hayes Theatre) Fiddler on the Roof, Carmen and My Fair Lady (Opera Australia), An Officer & a Gentleman (GFO), I Love The Frog (Arts Centre Melbourne)

She played Valerie Solanas and Judy Garland in Jim Sharman's online film Andy X. TV credits include Rake, All Saints and Wild Boys, Doctor Blake Murder Mysteries, and The Justine Clarke Show.

Amber McMahon


Amber trained at Flinders University Drama Centre, the Stella Adler Company and SITI Company in New York. Best known for her work in theatre, Amber boasts an extensive list of credits. Belvoir credits include; Stop Girl, Dance Nation, Bliss, Atlantis, Twelfth Night, Angels in America, and The Power of Yes. Other selected theatre credits include; […]

Read full bio

Amber McMahon

Amber trained at Flinders University Drama Centre, the Stella Adler Company and SITI Company in New York. Best known for her work in theatre, Amber boasts an extensive list of credits.

Belvoir credits include; Stop Girl, Dance Nation, Bliss, Atlantis, Twelfth Night, Angels in America, and The Power of Yes. Other selected theatre credits include; Top Coat, Rules for Living, Banging Denmark, Accidental Death of an Anarchist and The Popular Mechanicals for Sydney Theatre Company; Girl Asleep and School Dance for Windmill; A Broadcast Coup, Photograph 51, Tribes and The Appleton Ladies Potato Race for Ensemble, Small Mouth Sounds for Darlinghurst; North by Northwest for Kay & McLean Productions and Optimism and Picnic at Hanging Rock for Malthouse, which included two seasons at Royal Lyceum Edinburgh and Barbican London.

Amber was also a member of the Sydney Theatre Company Actors Ensemble, appearing in War of the Roses, The Season at Sarsaparilla, The Lost Echo, Gallipoli, and The Art of War.

Amber's screen credits include the feature film Girl Asleep and the series Erotic Stories and The Hunting for SBS.

She has received two Helpmann Awards for Best Female in a Supporting Role one for Girl Asleep for Belvoir/Windmill and School Dance one for Windmill.

Mansoor Noor


Mansoor's theatre credits include the following: Belvoir (Downstairs) Beirut Adrenaline; Apocalypse Theatre/KXT Omar & Dawn; Red Line Productions Just Live!, Belleville, Safety Switch; National Theatre of Parramatta The Comedy of Errors; New Theatre Stupid F**king Bird; bAKEHOUSE/KXT Visiting Hours, The Laden Table; Cross Pollinate/KXT Everybody; Joan Sutherland Performing Arts Daisy Moon Was Born This Way; Freefall Productions White Rabbit Red Rabbit. His feature film credits include The Dog Days of Christmas, The Furnace, […]

Read full bio

Mansoor Noor

Mansoor's theatre credits include the following: Belvoir (Downstairs) Beirut Adrenaline; Apocalypse Theatre/KXT Omar & Dawn; Red Line Productions Just Live!, Belleville, Safety Switch; National Theatre of Parramatta The Comedy of Errors; New Theatre Stupid F**king Bird; bAKEHOUSE/KXT Visiting Hours, The Laden Table; Cross Pollinate/KXT Everybody; Joan Sutherland Performing Arts Daisy Moon Was Born This Way; Freefall Productions White Rabbit Red Rabbit. His feature film credits include The Dog Days of Christmas, The Furnace, Project Eden, Embedded. On the small screen he's been seen in The Secrets She Keeps, Trip for Biscuits, Rake, Cleverman, Winter, Singapore 1942 End of Empire. Mansoor wrote, directed and appeared in the 2018 short film He's ISIS. A graduate from the Actors' Centre Australia, he also has a Bachelor of Film and Screen Media Production from Griffith Film School.

Toni Scanlan


Toni trained at the Drama Centre, London. Her theatre credits include for Belvoir Opening Night, Stop Girl, Ruben Guthrie; for Sydney Theatre Company Blood Wedding, Our Town, Troupers, King Lear, Cuckoo's Country and Madras House; for Black Swan Theatre Hir and Angels In America – Part One; for Ensemble Theatre Richard 111, Let The Sun […]

Read full bio

Toni Scanlan

Toni trained at the Drama Centre, London. Her theatre credits include for Belvoir Opening Night, Stop Girl, Ruben Guthrie; for Sydney Theatre Company Blood Wedding, Our Town, Troupers, King Lear, Cuckoo's Country and Madras House; for Black Swan Theatre Hir and Angels In America – Part One; for Ensemble Theatre Richard 111, Let The Sun Shine, A View From The Bridge, I'm Not Rappaport, All My Sons, The Price; for Sport for Jove/Riverside Theatre Hamlet; Studio Company/Riverside Theatre King Lear; for Darlinghurst Theatre Good Works; Eternity Playhouse Grand Opening Show: All My Sons; for Queensland Theatre Company Once In Royal David's City, The Family, Too Young For Ghosts; for Q Theatre Daylight Saving, Kid Stakes; for TN Theatre Co Private Lives, Boy's Own Macbeth, Cloud 9, The Conquests Of Carmen Miranda; for Griffin Theatre King Tide, Back Beat, White Nancy; for Playhouse Theatre Fields Of Heaven; for Her Majesty's, Perth Annie; for Hole in the Wall Theatre In His Own Right, Under Milkwood.

Toni's film credits include Heart & Bones, The Forest, Vacant Possession, Loveless, Homebrew, Breakaway, Tenderhooks, Contact, High Tide.

Toni's TV credits include Ten Pound Poms, The Hiding, Crownies, Answered By Fire, Mda, Backberner, Crash Palace, Water Rats (Series Regular 6 years), Bordertown, Blue Heelers, GP.

Toni has received the 2014 Sydney Theatre Award for Best Actress in a Leading Role in an Independent Production for All My Sons at the Eternity Playhouse and in 2008 received the Sydney Theatre Award for King Tide, by Kath Thomson at Griffin Theatre.

Toni's Directing credits include The Seagull, Cherry Orchard and Three Sisters for Qut; A Cheery Soul for Waapa.

Creatives

Robert Cousins


Set Designer

Deborah was last at Belvoir in Company B's Greek Tragedy. Other theatre credits include: Wicked Sisters (Griffin), Lady Tabouli (National Theatre Of Parramatta/Sydney Festival), Gods Of Strangers (State Theatre Company South Australia), The God Committee, Heartbreak Kid (Ensemble/tours), The Shearston Shift (Sydney Theatre Company/Australian People's Theatre/tours), I'm With Her, The Mystery of Love & Sex (Darlinghurst Theatre Company)

Read full bio

Robert Cousins

Theatre design includes Cloudstreet, Who's Afraid of Virginia Woolf, Strange Interlude, Waiting for Godot , Babyteeth, Mother Courage, and Mortido for Belvoir; Season at Sarsaparilla, War of the Roses, King Lear, The Resistible Rise of Arturo Ui for Sydney Theatre Company; Moving Target for Malthouse Theatre; Medea , Husbands and Wives and Flight 49 for Toneelgroep/International Theater Amsterdam; Medea for Burgtheater, Vienna; Eine Griechische Trilogie for Berliner Ensemble and Peer Gynt for Schauspielhaus, Hamburg; Medea for BAM, New york.

Opera includes Lear and Médée for Salzburg Festspiele and Polish national Opera; La Traviata for Opera National Paris and Wiener Staatsoper and The Ring for Opera Australia.

Dance includes Weather, Conversation Piece and Motion Picture for Lucy Guerin Inc Dance Company; Complexity of Belonging for Chunky Move Dance Company;

Film designs include Candy, Romulus My Father, Balibo and Ruben Guthrie.

Mel Page


Costume Designer

Mel is a set and costume designer. Costume designs for Belvoir St Theatre include: Japser Jones, Ivanov, Kill The Messenger, Seventeen, Nora, The Glass Menagerie, A Christmas Carol, Elektra/Orestes, The Government Inspector, Hamlet, Angels In America, & Strange Interlude. Set & Costume designs include: Taste Of Honey, Enemy Of The People, Back At The Dojo, Medea and Small & Tired. […]

Read full bio

Mel Page

Mel is a set and costume designer.

Costume designs for Belvoir St Theatre include: Japser Jones, Ivanov, Kill The Messenger, Seventeen, Nora, The Glass Menagerie, A Christmas Carol, Elektra/Orestes, The Government Inspector, Hamlet, Angels In America, & Strange Interlude. Set & Costume designs include: Taste Of Honey, Enemy Of The People, Back At The Dojo, Medea and Small & Tired.

Opera designs include costumes for Lear & Médée for Salzburg Festival; Die Tote Stadt for Bayerisch Staatsoper & Theater Basel and Pelleas Et Melisande for Den Norske Opera & Ballet.

Other theatre credits include costumes for Engel In Amerika for Theater Basel; Drei Schwestern for Theater Basel & L'Odeon; Cat On A Hot Tin Roof, Mary Stuart Les Liasions Dangereuses and Baal for Sydney Theatre Company; La Pompeii for Malthouse Theatre and Complexity Of Belonging for Chunky Move. Set and costume designs include: Lethal Indifference for Sydney Theatre Company; Night Maybe for Theatreworks; Minnie & Liraz and The Apocalypse Bear Trilogy for Melbourne Theatre Company.

Mel was the proud recipient of the 2016 George Fairfax Memorial Award, and has won a Sydney Theatre Award.

Paul Jackson


Lighting Designer

Stefan Gregory


Composer/Sound Designer

Stefan Gregory is an Australian composer and sound designer for theatre, dance and film. His recent productions include: Medea (Brooklyn Academy of Music, NY), Yerma (The Young Vic, London), Medea, Ibsen Huis, Husbands And Wives (Toneelgroep Amsterdam), Drei Schwestern, Engel In Amerika, Medea (Theatre Basel), Trilogie de Vengeance, Les Trois Soeurs (L'Odeon, Paris), Avalanche (Barbican, […]

Read full bio

Stefan Gregory

Stefan Gregory is an Australian composer and sound designer for theatre, dance and film. His recent productions include: Medea (Brooklyn Academy of Music, NY), Yerma (The Young Vic, London), Medea, Ibsen Huis, Husbands And Wives (Toneelgroep Amsterdam), Drei Schwestern, Engel In Amerika, Medea (Theatre Basel), Trilogie de Vengeance, Les Trois Soeurs (L'Odeon, Paris), Avalanche (Barbican, London), There Is Definitely A Prince Involved (Australian Ballet, Melbourne), L'Chaim (Sydney Dance Company), Wonangatta, Cat On A Hot Tin Roof, Arturo Ui (Sydney Theatre Company), The Present (Broadway, NY), Counting And Cracking, The Wild Duck, Thyestes (Belvoir St Theatre, Sydney), The Dig (Netflix). He has worked with many esteemed directors and choreographers, including Simon Stone, John Crowley, Neil Armfield, Benedict Andrews, Anne-Louise Sarks, Eamon Flack, Kip WIlliams, Gideon Obarzanek, Matthew Lutton, Ralph Myers, Angelica Mesiti.

Stefan has won two Sydney Theatre awards, and OBIE, was nominated for a drama desk award, has received a Sidney Myer Fellowship and has won a Helpmann award.

Stefan was a band member of Faker from 2004-2009, which achieved a platinum release with This Heart Attack and was nominated for several ARIA awards (Australian Recording Industry Association).

Stefan has a degree in pure mathematics (Hons. 1st) from the University of Sydney and also studied at the Sydney Conservatorium of Music, but did not finish his diploma.

The son of science teachers and amateur folk musicians, Stefan grew up in a steel agricultural shed on a bushland property in the hinterland of Sydney with no electricty and a pet wallaby called Basil, where he nearly died from a red back spider bite at the age of nine.

Hamed Sadeghi


Associate Composer/Sound Designer

Born 1983 in Iran, Hamed Sadeghi is a multi-instrumentalist and composer based in Sydney, Australia. He studied Persian classical music in Tehran and master of sound engineering in Malaysia before he moves to Australia in 2013. His recent professional highlights in theatre, dance and film include Sami in Paradise Belvoir 2018, Stop Girl Belvoir 2021, […]

Read full bio

Hamed Sadeghi

Born 1983 in Iran, Hamed Sadeghi is a multi-instrumentalist and composer based in Sydney, Australia. He studied Persian classical music in Tehran and master of sound engineering in Malaysia before he moves to Australia in 2013.

His recent professional highlights in theatre, dance and film include Sami in Paradise Belvoir 2018, Stop Girl Belvoir 2021, The Boomkak Panto Belvoir 2021, Cloe Fournier's Tout Ce Sa at Sydney Dance Company 2022, Opening Night Belvoir 2022, Ryuichi Fujimura's How I Practice My Religion Riverside Theatre and Melbourne Dance House 2023, Amin Palangi's Tennessine Sydney Film Festival 2023 and William Zappa's The Iliad at Sydney Festival, Adelaide Festival and Fourwinds festival 2019 – 2022.

As a composer Sadeghi has released 4 albums to critical acclaimed and has earned recognition through nominations for ARIA Awards 2021 for best world music album and best jazz album He has been a finalist at APRA Art Music Awards and have been nominated for best original score of mainstage production at Sydney Theatre Awards 2019.

Hannah Goodwin


Assistant Director

Hannah Goodwin (she/her) is a director who lives and works on Gadigal land. She is currently Resident Director at Belvoir Street Theatre. Her work includes Wayside Bride by Alana Valentine (Belvoir), Light Shining in Buckinghamshire by Caryl Churchill (Belvoir), The Sorry Mum Project by Pippa Ellams (National Theatre of Parramatta, Bondi Feast), A Girl in […]

Read full bio

Hannah Goodwin

Hannah Goodwin (she/her) is a director who lives and works on Gadigal land. She is currently Resident Director at Belvoir Street Theatre. Her work includes Wayside Bride by Alana Valentine (Belvoir), Light Shining in Buckinghamshire by Caryl Churchill (Belvoir), The Sorry Mum Project by Pippa Ellams (National Theatre of Parramatta, Bondi Feast), A Girl in School Uniform (Walks into a Bar) by Lulu Raczka (Kings Cross Theatre), and The Carousel by Pippa Ellams (Shopfront Arts Co-op, Downstairs Belvoir, Merrigong X, Kings Cross Theatre). As assistant director: Black Brass by Mararo Wangai (Belvoir), Stop Girl by Sally Sara (Belvoir), My Brilliant Career by Kendall Feaver (Belvoir), Packer and Sons by Tommy Murphy (Belvoir), and Love by Patricia Cornelius (Darlinghurst Theatre Company).

Hannah was the 2020-2022 Andrew Cameron Fellow at Belvoir and the 2019 recipient of the ATYP Rose Byrne Leadership Scholarship.

Luke McGettigan


Stage Manager

Luke is Belvoir's Resident Stage Manager. For Belvoir, he has stage managed The Jungle and the Sea, Tell Me I'm Here, Opening Night, The Boomkak Panto, Stop Girl, My Brilliant Career, A Room of One's Own, Packer & Sons, Things I Know To Be True, Counting and Cracking, The Dance of Death, A Taste of […]

Read full bio

Luke McGettigan

Luke is Belvoir's Resident Stage Manager. For Belvoir, he has stage managed The Jungle and the Sea, Tell Me I'm Here, Opening Night, The Boomkak Panto, Stop Girl, My Brilliant Career, A Room of One's Own, Packer & Sons, Things I Know To Be True, Counting and Cracking, The Dance of Death, A Taste of Honey, Sami in Paradise, Barbara and the Camp Dogs, Ghosts, The Rover, Mark Colvin's Kidney, Faith Healer, Twelfth Night or What You Will, The Great Fire, Mortido, Seventeen, Elektra/Orestes, Radiance, The Glass Menagerie, Brothers Wreck, Once in Royal David's City, Miss Julie, Forget Me Not, Peter Pan (including New York tour), Private Lives, Death of a Salesman, Babyteeth, Summer of the Seventeenth Doll, Neighbourhood Watch, The Wild Duck (including UK and Europe tours), Namatjira (Belvoir/Big hART), Page 8, The End, That Face, The Promise, Scorched, Antigone, Keating!, The Little Cherry Orchard and The Caucasian Chalk Circle. His other credits include The Pig Iron People, The Give and Take, Bed, La Dispute (Sydney Theatre Company); Like a Fishbone (STC / Griffin); The Government Inspector, The Tempest, The Servant of Two Masters, The Comedy of Errors, The Taming of the Shrew (Bell Shakespeare); Paradise City, Through the Wire (Performing Lines); and Alive at Williamstown Pier (Griffin).

Cecilia Nelson


Assistant Stage Manager

Cecilia Nelson graduated from NIDA's BFA (Technical Theatre and Stage Management) in 2017 after completing a BSc./BA. at The University of Sydney. This year, she was the assistant stage manager Pippin, Australia's first commercial musical to open after the COVID-19 pandemic. Last year, she was half-way through the national tour of Billy Elliot (LWAA) when our […]

Read full bio

Cecilia Nelson

Cecilia Nelson graduated from NIDA's BFA (Technical Theatre and Stage Management) in 2017 after completing a BSc./BA. at The University of Sydney. This year, she was the assistant stage manager Pippin, Australia's first commercial musical to open after the COVID-19 pandemic. Last year, she was half-way through the national tour of Billy Elliot (LWAA) when our theatre doors closed for lockdown.  Cecilia toured the award-winning Barbara and the Camp Dogs (Belvoir)as stage manager and was the assistant stage manager in the original Belvoir season. Cecilia stage managed In The Heights (Blue Saint Productions) which toured regionally before opening in the Sydney Opera House Concert Hall, the intimate but ground-breaking The Howling Girls (Sydney Chamber Opera) and was the assistant stage manager for The Rape of Lucretia (Sydney Chamber Opera). Cecilia has a passion for opera and has stage and assistant stage managed Artaserse (Pinchgut), Candide (Sydney Philharmonia), New Year's Eve Opera Gala (Opera Australia), and was surtitle operator for Carmen (Opera Australia/HOSH). She is passionate about music in theatre and the power of art to make sense of life.

Nigel Poulton


Fight, Movement and Intimacy Coordinator

Nigel is an award-winning fight, movement, and intimacy director, SAG-AFTRA stunt performer and actor with over 17 years of national and international experience. Stage work includes: Stop Girl, Cursed!, Packer and Sons, Things I Know To Be True, Counting and Cracking, The Dance of Death, Sami in Paradise, The Sugar House, A Taste of Honey, Scorched(Belvoir); Prize Fighter (Belvoir/La Boite); Hamlet, Much […]

Read full bio

Nigel Poulton

Nigel is an award-winning fight, movement, and intimacy director, SAG-AFTRA stunt performer and actor with over 17 years of national and international experience. Stage work includes: Stop Girl, Cursed!, Packer and Sons, Things I Know To Be True, Counting and Cracking, The Dance of Death, Sami in Paradise, The Sugar House, A Taste of Honey, Scorched(Belvoir); Prize Fighter (Belvoir/La Boite); Hamlet, Much Ado About Nothing, The Miser, Antony and Cleopatra, Romeo and Juliet, Richard III (Bell Shakespeare); Grand Horizons, Appropriate, Playing Beatie Bow, The Picture of Dorian Gray, The Deep Blue Sea, Beauty Queen of Leenane, Lord of the Flies, Cat on a Hot Tin Roof, How to Rule the World, Harp in the South, Mary Stuart, Blackie Blackie Brown, A Cheery Soul, Accidental Death of an Anarchist, The Long Forgotten Dream, Saint Joan, The Resistible Rise of Arturo Ui, Dinner, Black is the New White, Speed the Plow, The Golden Age, The Present, Cyrano de Bergerac, Switzerland, Macbeth, Romeo and Juliet, Noises Off (STC); Spartacus (The Australian Ballet); Romeo and Juliet (New York City Ballet); Faust, Carmen, Tosca, La Boheme, Krol Roger, Cavalleria Rusticana / Pagliacci (Opera Australia); Triple X, Hydra (Queensland Theatre), Jasper Jones, Noises Off (Queensland Theatre/Melbourne Theatre Company); Singin' in the Rain (Dainty Group International), Les Miserables (Cameron Mackintosh); Don Giovanni, Carmen, Il Trovatore (The Metropolitan Opera). Nigel's film and television work includes: Pirates of the Caribbean V, Deadline Gallipoli, The Water Diviner, The Bourne Legacy, Vikingdom, The Good Wife & Boardwalk Empire. Nigel was intimacy co-ordinator for the online series Ding Dong, I'm Gay and feature film Spiderhead.

Jack Saltmiras


Video Deviser and Cinematographer

Susie Henderson


Video Content Creator and Systems
Rehearsal Photos images by
Brett Boardman
Production images by
Brett Boardman