The life and times of Eugene O'Neill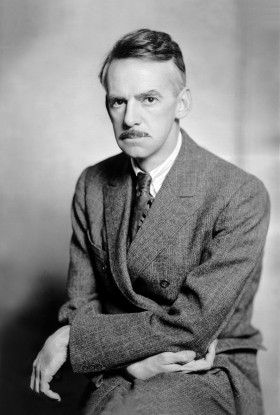 By Caitlin Scarr
'I knew it. I knew it. Born in a hotel room – and God damn it – died in a hotel room.'
These were the last words of Eugene O'Neill: alcoholic, recluse, and arguably North America's greatest modern playwright. O'Neill, four-time recipient of the Pulitzer Prize for Drama, and Nobel Laureate in Literature, spent the final years of his life unable to write, waiting impatiently for death. It was, perhaps, an inevitable end for an undeniably troubled life. The youngest child of actor James O'Neill and housewife Mary Ellen Quinlan, O'Neill was delivered, quite literally, into the theatre world. He was born in a Broadway hotel room on 16 October 1888, and until the age of seven followed his father on tour around the United States.
'First seven years of my life spent mostly in hotels and railroad trains, my mother accompanying my father on his tours of the United States, although she never was an actress, disliked the theatre, and held aloof from its people.'
O'Neill spent several years at a Catholic boarding school, and also one year at Princeton, before being expelled. The reason for his expulsion was never fully disclosed, although rumours circulated that a certain student's beer bottle may have found its way through the window of future president Professor Woodrow Wilson.
It was during his post-Princeton era that O'Neill found his way to the sea, working as a sailor and travelling the world. It cemented for him the alcoholic tendencies that would influence his life and writing.
The sea proved to have a lasting effect on O'Neill, appearing often in his writing. His first produced play was Bound East for Cardiff, a play about sailors and the sea. It premiered in 1916 in a tiny, make-shift playhouse on a wharf in Provincetown, where the play's effects were supported by the waves lapping audibly at the sand underneath them.
O'Neill's plays quickly gained recognition on a national scale. In 1918, Beyond the Horizon earned him his first Pulitzer Prize for Drama, and his second Pulitzer Prize followed closely in 1920 with Anna Christie. Strange Interlude (1928), which is to be produced at Belvoir this year, and Long Day's Journey Into Night, published posthumously against O'Neill's wishes in 1956, also received Pulitzer Prizes. He received the Nobel Prize for Literature in 1936.
O'Neill's plays were sensational. He had introduced realism to the USA in an unprecedented manner, wrote with an unflinchingly autobiographical voice, and filled the stage with characters and situations that, until that point, were considered unfit for the American stage. O'Neill's play The Emperor Jones was the first production to feature an African-American actor on a Broadway stage. His most celebrated work, Long Day's Journey Into Night, is highly autobiographical in its characters and content.
In 1932, MGM asked O'Neill to write a screenplay for actress Jean Harlow. He was required to reply in 20 words or less, via cable. His response read, 'No. No. No. No. No. No. No. No. No. No. No. No. No. No. No. No. No. No. No. O'Neill.' He was apparently not Harlow's biggest fan.
Despite his theatrical success, O'Neill's personal life was dismal. He lost his father, his morphine-addicted mother and his alcoholic brother within three years of each other. His first marriage, to Kathleen Jenkins, produced one son, Eugene O'Neill Jr. Jenkins filed for divorce after three years, having grown tired of O'Neill leaving her to go travelling.
O'Neill's second marriage, to Agnes Boulton, produced two children, Shane and Oona, before O'Neill divorced Boulton to marry actress Carlotta Monterey. O'Neill and Monterey's marriage deteriorated quickly, as Monterey developed an addiction to potassium bromide, but despite numerous separations, the couple never divorced.
O'Neill's relationships with his children were less than ideal. Eugene Jr. suffered from alcoholism and took his own life at the age of 40. Shane, a heroin addict, also took his own life. Oona was disowned by O'Neill for marrying Charlie Chaplin, who was 36 years her senior. They never reconciled. Oona also developed alcoholism towards the end of her life.
In the final 10 years of O'Neill's life, he was reclusive. Tremors in his hands, which he first noticed during his time at Princeton, grew so unmanageable that he was unable to write. Attempts to dictate his work were dismal, and he found himself unable to compose effectively. O'Neill was incorrectly diagnosed with Parkinson's disease. In fact, he suffered from late-onset cerebella cortical atrophy. Either way, it made no difference. His writing was finished.
The New York Times wrote, on the day of his death:
'Whatever judgment posterity may make, the history of the stage will have to find an important niche for him, for he came upon the scene at an opportune moment and remained active long after the American theatre had come of age.'
O'Neill's wife, Monterey, was left with specific instructions to destroy all unfinished manuscripts and drafts following his death. She complied with all his requests, except one. O'Neill had stipulated that the manuscript for Long Day's Journey Into Night be published no earlier than 25 years after his death. Monterey waited only three years.
The site of his death, the fourth floor of the Sheraton Hotel in Boston, now the Shelton Hall dormitory of the Boston University, is affectionately called the Writer's Corridor. To this day students in that hall perpetuate the myth that O'Neill's ghost haunts the dormitory. Considering his history with tertiary education, he would probably enjoy the irony.
The Broadway hotel in which O'Neill was born no longer exists. Instead, there stands a Starbucks. A small plaque, fastened to the outer wall, acknowledges the historic location. It reads, 'Eugene O'Neill, October 16, 1888 ~ November 27, 1953. America's greatest playwright was born on this site then called Barrett House.'
Online sources: PBS (American Masters); The New York Times (Topics – Eugene O'Neill); The Official Eugene O'Neill site (biography); The Official Nobel Prize site (O'Neill's autobiography); Neuroscience For Kids (Eugene O'Neill – What Went Wrong?); Spartacus Educational; Wikipedia.
Image: oldradio.com