MEET BOB & CHRIS

CHRIS: We feel like we're a part of the family, a big and wonderful Belvoir family. We meet the people behind the scenes, the audience, and even the artists straight off the stage. It's a wonderful feeling.
BOB: Belvoir keeps doing something new. And Eamon [Flack] has an amazing understanding of the world, which he presents to us on stage.
CHRIS & BOB: Being a B Keeper is so rewarding. Art in all its facets needs support, and is immensely valuable and essential to society. Whatever you can do to help preserve the art of storytelling is worthwhile. It's so much more than just writing a cheque.
Bob & Chris have been B Keepers for over ten overs.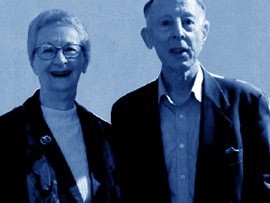 Belvoir B Keepers is a giving program that is characterised by a loyal group of individuals whose financial support reflects their passion and commitment to the company.
Donations we receive from our B Keepers play a vital role in giving us the capacity to nurture and present our unique kind of theatre and provides a reliable, ongoing source of income that underpins all of Belvoir's core activities from; new Australian work, the presentation of classics, providing access to our work and the development of new Indigenous led work.
B Keepers have a very close connection with the company – some have been supporters over many years while other theatre aficionados have joined more recently.
Annual B Keeper donations start at $1,000 (fully tax deductible).
To discuss supporting Belvoir as a B Keeper please contact Sarah Gilchrist, Head of Development, [email protected] or (02) 8396 6225