Writer Lally Katz and director Chris Kohn discuss the family myths, chance encounters and karate dojo that inspired their latest play.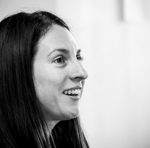 WRITER'S NOTE BY LALLY KATZ
I grew up hearing stories of my father's twenties in a karate dojo in Trenton, New Jersey. This karate dojo has always been a mystical place within my family. It has become part of our family mythology how my father lost his mind on drugs and how the hard-ass sensei at the dojo helped him to recover his mind through the discipline of the body. My father met my mother through the karate dojo. In 2010, I brought the idea to do a play inspired by this to my long-time collaborator, director Chris Kohn. He was immediately drawn to doing a karate play and brought in Sensei Natsuko Mineghishi (who would become my sensei – though I'm only a yellow belt and have been demoted back to white).
In 2010, I also met a young woman on a bus in Australia. She had a New York accent and I told her I was born in New Jersey. I felt the same magic dust sprinkling feeling that I'd felt the first time I met Anna in Neighbourhood Watch and a handful of other women that I became obsessed with and wrote about. She and I exchanged phone numbers and met up. She told me that she had always been a woman, but had been born a man biologically and was now beginning transition. We hung out another few times and then I went overseas for five months and eventually lost touch. But as I started writing Back at the Dojo later that year, I found her story working its way into the telling of the story of the dojo.
Although the play started off being about my father and originally was going to have him in it playing himself (but we had to fire him because he wasn't believable enough), it has become something else. This isn't my dad's life. These are stories inspired by my dad's life and character. But I really took creative license and made up a lot of stuff about him that simply was never true. He's taken this pretty well on the whole.
Most of my plays are a mixture of true stories and people from my life mixed with made-up stories and dreams. Sometimes people get really mad at me for this. Sometimes when the character is myself, I get really mad at me for this too. Both Belvoir and Stuck Pigs have been homes to many of these plays. Belvoir commissioned and produced Neighbourhood Watch (a partially true, partially made-up story about my Hungarian neighbour Anna) and Stories I Want to Tell You in Person (all completely true stories about my love life and psychics with one made-up element – an Apocalypse Bear). Stuck Pigs Squealing produced Lally Katz and the Terrible Mysteries of the Volcano, a play where Canberra was a tropical island and Luke Mullins played the character of Lally Katz, who was sometimes a male detective and sometimes a teenage girl. Brian Lipson played Lion, my childhood stuffed toy.
I'd like to thank the actors who participated in the many developments of this play over the last six years and dramaturgs, Anthea Williams and Louise Gough, and Andrew Eklund from Transgender Victoria for his invaluable consultancy. And my family for not disowning me even though I constantly make them characters and make up stuff about their lives.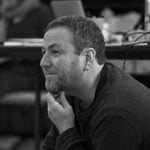 DIRECTOR'S NOTE: CHRIS KOHN
Lally first put forward the concept of Back at the Dojo in 2010. Finding ourselves with no new project in development, I asked her if there were any stories she was burning to tell. In response, she told me about this idea she had of theatricalising the story of her parents' meeting. She told me about her father Dan's experiences in late 60s and early 70s New Jersey and Kentucky, when he went through a bad time with hallucinogenic drugs, nearly losing his mind, before discovering a new path in life through a chance encounter with a karate dojo, run by a complex and enigmatic sensei. Through this dojo, Dan met Lally's mother Lois. Naturally, I wanted in.
Audiences familiar with Lally's work will know that she frequently draws on elements of her own life in her writing, albeit mostly through an abstracting, "magic realist" lens. Her predilection for personal mythmaking is a defining feature of her oeuvre and an important source for her idiosyncratic style and thematic preoccupations. I saw the Dan and Lois Katz narrative as an opportunity to build on Lally's project of mining personal narratives, and to explore some ideas around storytelling and family history, while simultaneously addressing motifs inherent in the narrative – the hedonistic idealism of the post-war West, notions of discipline and intergenerational conflict.
Early iterations of the play included meta-theatrical elements, such as the replaying of recordings of interviews between Lally and her father; at one point Dan Katz himself was going to perform in the play. As is almost always the case with plays developed in a collaborative environment, the force of the narrative asserted itself, demanding its own form. Over six years, it emerged as the play it has become.
One of the aspects that excited me most about the play was the centrality of karate to the storytelling. From the beginning of the process of making the work, this has served as a great foundation, both as a physical discipline and a philosophical approach. We were lucky to find early on Natsuko Mineghishi, who is the Sensei of her own dojo in Melbourne, which shares a lineage with Dan's New Jersey dojo, depicted in the play. Natsuko has provided valuable insight to the play, running the rehearsal room as a working dojo through most stages of its development, providing a highly focused and disciplined creative environment.
As with all my collaborations with Lally over the years, I consider it my job to find a theatrical voice for the story that she brings to the room. Together with our collaborators, we test, prompt, argue and dare each other to push outside of our comfort zones, to eschew easy answers and cliché in pursuit of a greater prize – creating a world on stage as vast, messy, absurd and beautiful as the one that we inhabit.
This collaboration between Stuck Pigs Squealing and Belvoir is the latest iteration of a friendship that began 12 years ago, when we presented The Black Swan of Trespass and The Eisteddfod as part of the B Sharp independent season. Several Stuck Pigs Squealing creatives involved in Back at the Dojo – Lally Katz, Luke Mullins, Jethro Woodward and Richard Vabre – were involved back then. Other regulars, such as Brian Lipson and Mel Page, are also veterans of the Belvoir stage, but this is the first time we have collaborated together here on a main stage production.
We are indebted to the actors who helped to develop this show through several creative processes and whose influence is strongly felt in the final product – Christopher Brown, Jim Daly, Bert La Bonte, Jodie le Vesconte, Zahra Newman, Naomi Rukavina, Luke Ryan, Katherine Tonkin and Mark Leonard Winter. I would like to thank Transgender Victoria, especially Andrew Eklund, for the important role they have played as script consultants, providing invaluable insight into the development of the characters of Patti and Dan.
My contribution to this show is dedicated to Danica, Ariel, Bodhi and Carlo, the loves of my life and my own personal spirit guides. Oss.
Back at the Dojo is playing in the Upstairs theatre from June 18 to July 17. Book tickets here.