Belvoir shows nominated for the Play Award in the NSW Premier's Literary Awards
We're very excited that last year's Neighbourhood Watch by Lally Katz and 2010 B Sharp production The Sweetest Thing by Verity Laughton have been shortlisted for the Play Award in NSW Premier's Literary Awards.
Neighbourhood Watch by Lally Katz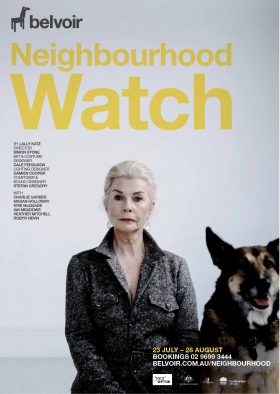 Ana is a battle hardened Hungarian-Australian veteran of the twentieth century. Catherine is her neighbour: twenty-something and waiting for a better world. Can their unlikely friendship outlive the colossal forces of history, the inevitability of death, and a trip to the mall to see Mamma Mia?
Neighbourhood Watch is a glorious new comedy about hope, death and pets. Lally Katz wrote it for the great Robyn Nevin. It's a classic odd-couple story: opposites attract, and from each other they gain a new understanding. But as the domestic crises accumulate, Neighbourhood Watch takes on a sense of enormity in the midst of the ordinary that would make Patrick White proud. Katz is a true original and in Neighbourhood Watch her spirit of curiosity turns optimism into an artform.
The Sweetest Thing by Verity Laughton
The Sweetest Thing is a classic love story seen through the lens of a fragmented, grieving family, tinged with childhood memories and thoughts of days gone by. This new Australian work by acclaimed writer Verity Laughton is set within a shifting time span and the frame of chaos theory. After the sudden death of her father, the story's central character Sarah flees to New Zealand leaving the grief-stricken remains of her family behind in Australia. Teetering out of balance she finds herself falling in love and lust with Jimmy, a relationship that changes everything, forever.
The winner will be announced at a ceremony at the State Library of NSW on 30 November