Eamon Flack (co-deviser of Beautiful One Day) writes from Palm Island.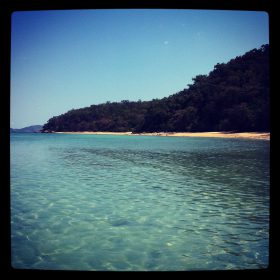 Where to start? This is the Beautiful One Day blog. Beautiful One Day is a theatrical documentary about the irrepressible life and times of Palm Island. Palm Island is an Indigenous community off the coast of Queensland. It was gazetted as a mission before the First World War and remained under the Aboriginal and Torres Strait Islander Protection Act until the final vestiges of the Act were overturned in the mid 1980s. During that time, first peoples from over 40 different language groups were removed here, creating a new group: Bwgcolman, the Palm Island people, with a contemporary population of about 3,000 concentrated on the east coast of the island.
To get here you fly to Townsville and then catch a ferry, which takes about 90 minutes. Or you can fly to the small airport here. We came on the ferry. We: this week there are 12 of us – four from Belvoir, one from Ilbijerri Theatre Company (Rachael Maza), four from version 1.0, and three from Palm Island. This show is a kind of conversation between us all about each other's worlds – which makes it a conversation about the following: Palm's long history of resistance and refusal and protest, White Australia's fear of Black Australia, injustice, resilience, storytelling, and, tying it all together (hopefully!), theatre.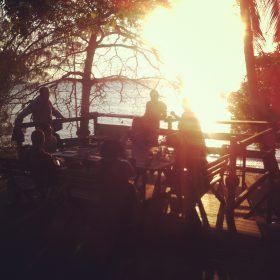 Here's a photo of our rehearsal space for the current fortnight. It's the back veranda of Maggie Blackely's house on Pencil Bay, Palm Island. Maggie is our cultural consultant and a performer in the show. She and her family moved out here to Pencil Bay in 1985, when Queensland Government legislation deigned to give the people of Palm Island a measure of control over their own land. In all that time Maggie's has been the only house on Pencil Bay. There's only a single road in here. Until April this road had been a kind of dried up creek bed, all boulders and ruts, and then in the week leading up to the Council elections a grading team made the thing serviceable. Now the road comes to the beachfront, and there's a new shack down that end of the bay. At low tide we can drive along the sand to Maggie's. At high tide we walk the few hundred metres up the arc of the bay.
The high tides are high and the low are low – turquoise waters falling away to old reef and sandy flats. Sean Bacon (video artist, explorer, Tasmanian) saw a turtle here in April. Yesterday evening Maza and I saw something terrorising the fish, which were jumping. Perhaps it was a turtle, or perhaps it was just a big fish, or a small shark. Or a ray. (It wasn't Sean; he wasn't here.) At high tide the water rises up over the course white sand of the beach and we swim. At low tide only Sean swims – walks two hundred metres over the exposed rocks and flats and sits in a warm puddle on the edge of the tidal shelf where the dark blue water begins. Sean is fearless and walks, we all agree, like a particular breed of dog; I don't remember which.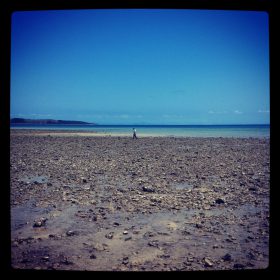 This morning the tide is very high; we are about to start rehearsals and most of us are still in our togs. Rachael Maza is strumming Hotel California on her ukulele, Kylie Doomadgee is sitting at the veranda rail looking out over the sea with Knoxy the fox terrier on her lap, Ruby Langton is on the phone with the waves lapping her ankles, Sean is eating a banana from the bunch that Harry Reuben picked, and the peacock is grazing for insects under the mango tree. (The rest of us are being unremarkable.)
I'm writing this at a table in front of Kylie and Ruby's room, looking over the veranda through the frame of a palm tree and a spring-time beech almond – I know, it'd be ridiculous, I could go on about it all day, the endless details of how pretty it is here, pretty and calm and enviable, but I don't want to gloat. So. On Kylie's bedroom door there are two big pieces of butcher's paper, and on the door next door another big piece. These outline the four acts of our show (now we come to it!) –
– about which I will write next week.