Wesley Enoch's 2013 Philips Parsons Memorial Lecture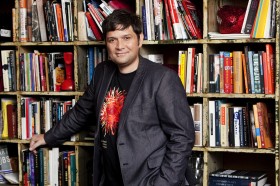 This is an edited transcript, see Related Downloads for the full lecture.
Hello and Welcome. Thank you for coming today. My name is Wesley Enoch and my family come from Stradbroke Island or Minjeeriba just off the coast of Brisbane in Quandamooka country. I am a Noonuccal Nuugi from there but my family are more than just that. I have a great great grandfather called Fernando Gonzalas who was a filopino fisherman who was shipwrecked on the island and married in, family from Rotumah Island in the Sth Pacific who were escapees from the blackbirding trade in the far north of queensland who ran away to Stradbroke and married in to the family, I have different clans from the north in Karndju country near Cairns and the Irish English Scottish. On my mothers side of the family I have a great grandmother with Danish heritage, a great grandfather with Spanish heritage and the usual mix that has become synonymous with being Australian today. I am the sum of all my histories I stand here because of them.
I'd like to acknowledge the traditional owners of this area the Gadigal and the Darug of the Eora nation and play witness to the wisdom of the elders past and present. As I look out and see the elders in this audience today I acknowledge your wisdom and contribution to this country you call home and it is only with this combined wisdom will we have a future.
Phillip Parsons was such an elder and his work alongside the indefatigable Katherine Brisbane and the teams of people at Currency Press over the years have helped us capture a history, record the present and project into the future. Thank you for this opportunity.
I am a great believer in knowing our history. Where we gather now, on this hill, you used to be able to see out to the water courses and across the plains. When Joseph Forveaux claimed this place he may not have seen the significance of being able to see long ways into the distance. He named it Surry Hills Farm as an acknowledgement of his history and what he saw here took him back to a past place, a place of his history. The Gadigal and the Darug would have used this place to see where water and food would be, they would have lit a campfire and watched the sun play on water and trees and observed the present……. but today I wish to use this vantage point to see into a future. I want to see the history, I want to sit around a campfire and see what is being played out now and I want to look over the landscape and make some predictions into a future that invites us to be part of it, either through accepting or changing it.
I can see a future where even more commercial elements drive our theatre making.
I can see a world where the investment from artists is increased and the payment for services by an employer is replaced with greater personal risk for those who undertake to make theatre.
I can see a world where careers are built not only by talent but through connections with audiences and mobile fan bases.
I can see a world where Independent theatre practices are the norm.
I can see a changing funding landscape where nothing is guaranteed, and I can see a greater role for audiences and donors in innovation and risk.
Today I want to light a few fires, be provocative and argue that we as artists are sometimes our own worst enemies and I want to demonstrate the power of the audience and the ability for us as artists to work against the sustainability of our own careers and endeavours.
I called this Lecture – I don't do it for the money – because it's a phrase I've heard many times. Though I've never heard a lawyer say it, I haven't heard a doctor say it, I haven't heard a plumber or carpenter or bus driver or bank teller or office worker or an insurance agent or an engineer….you get the picture. Where I've heard this phrase used most is from the mouths of nurses, teachers, social workers and artists. Always artists. In a form of vocational justification we as artists use this phrase – I don't do it for the money – to explain why we are not getting ahead in a career or our financial well being, we say this phrase as a way of asking for more time, we stretch out our hope on a torture rack and say the pain is worth it. I don't do it for the money – acknowledges we believe there is a greater good being achieved through our work, a huge social project that requires our long term sacrifice or a need to build skills and exposure to one day hit the jackpot in a career gamble where the odds are never in our favour.
Independent theatre has a number of roles it can play. I break them down into four areas Experience, Exposure, Exploration and Economics. Experience – As a training ground Independent theatre can be where you test and explore your skill base, where you build working methods and relationships and put into practice things you have learnt in theory. This trial and error through practice allows peer to peer learning and is where I witness most Independent theatre occurring. This goes hand in hand with Exposure. Independent Theatre is a public audition process, building audience connections and reputation, showcasing your talent so others can see and potentially offer you employment.
Exploration is what used to be called fringe where research and development can occur especially around form. Here I see Independent meaning separation of traditions and pushing the boundaries setting out to learn something new about theatre and performance. Economics refers to a group of artists who set aside payment to build a show with the view of selling that show to broader audiences through festivals, touring bodies, other presenters etc. We've seen this in Brisbane with groups like Briefs, Polytoxic, Casus, Shake and Stir who build shows that can then have extended lives touring. One group has been touring through Europe for 8 months with a show they created as an independent theatre offering.
These 4 areas all have in common deferring financial rewards for future benefit and are not mutually exclusive.
Unfortunately the bulk of Independent theatre has little if any financial returns for those who are making it. I chatted with a group who are part of the LaBoite indie program about their recent experience. They had a sold out show and were likely to walk away with around $1000 – $1500 dollars each between 17 people after expenses and house costs. The average ticket price was approximately $24 for a 3 week season, they held a Pozible campaign which raised about $3000 and by my rough calculations the house took around $12-15K or roughly 1/4 of the income. So the house makes a small amount if any after costs but gets to include the audience demographics in their figures, build standing in the community, gather ticket charges and associated incomes ie restaurant and bar sales, parking. The house gets a series of low risk soft benefits associated with this investment in the new.
We have seen a proliferation of these independent programs within funded companies MTC and their Neon Program, Malthouse and Helium, Griffin and Stablemates, LaBoite's LaBoite Indie program, in addition to venues and Arts Centres. (I should acknowledge that Belvoir has ended their B Sharp program in the downstairs and replaced it with professionally paid projects). These recent additions to the independent theatre scene have mostly occurred in the past 10 years and have joined the long term Independent theatre structures like laMama, Metro Arts, The Old Fitz/Tamarama Rock Surfers/Bondi Pav, the Blueroom and many more.
There are a plethora of models and deals on offer. These diverse offerings vary so greatly that it's best for each company to promote their own programs.
I need to say now that I am not against the idea of self funded risk or artist investment in work but I see a trend where publicly funded companies who are funded to produce and present professional theatre are increasing their programming through unpaid or partly paid labour.
There is no malice or intention to defraud artists, it has become about sharing the risk and the potential rewards.
I argue that when funded companies are curating a program of works, developing relationships with new audiences and promoting the fact they are engaged in high risk programs to secure philanthropic or corporate support then there is little to distinguish between what is paid and what is unpaid. Audiences must distinguish through the choice and layout of venue, maybe ticket pricing, and promotional material etc how what is being presented in Independent Programs differs from mainstage. We have seen funding bodies part fund or accept part payment models with different companies around the country like Red Stitch, Short and Sweet, Darlinghurst Theatre, Tamarama Rock Surfers etc. If we believe that funding is about supporting risk, innovation and development and not primarily about the status quo then I argue companies should put their money where their mouths are.
I think it is immoral for people on full time salaries in companies and venues with multi-million dollar turnovers to be asking artists to do work for free or less than the agreed award.
We must start to challenge ourselves to question the sustainability of our careers and crash through our disappointment. We have to stop letting our hopes and dreams, our ambitions and goals becoming a cage that allows us to deceive ourselves and compromise our lives. When is the sacrifice too great? When is it time to transition? How do I support myself?
For many this is not a process of their own choosing. We must accept that we work in an area where there is a pyramid of opportunity and that attrition is hardwired in to ensure there are only a few at the top. Maybe we can balance our artistic work with more financially sustaining work and find an inner peace in that. Keep our artistic life alive through community and amateur theatre. But we must learn to live our lives.