Theatre is 'a monster that forgets'.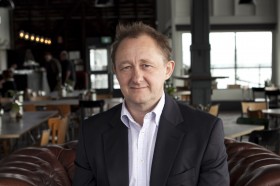 This year Andrew Upton, who has been Co Artistic Director of Sydney Theatre Company since 2008 and becomes Artistic Director in 2013, will present the annual Philip Parsons Memorial Lecture. In his lecture entitled The Resonating Space, he will discuss how theatre must evolve with our culture and live in a contemporary context.
'Theatre exists in the present,' Upton emphasises. 'While theatre has a profound history and ties to our shared culture, it's not a bookish history. It's more important to tell stories for today's audience than to be faithful to history. When adapting a script I choose language that speaks to our contemporary audience, but that resonates with the history of the play. Theatre is 'a monster that forgets' as Dion Boucicault wept. It is a resonating space that must be re-tuned by every generation and then played on human gut strings that link us all the way back to the caves.
'The creation of a production has to be viewed holistically. No one element can be given more import than the production, which is always greater than the sum of its parts.'
The Young Playwright's Award winner will be announced at the conclusion of the lecture.
The Young Playwright's Award is given annually to an outstanding writer under 35 years of age who will receive a writer's commission supported by Belvoir. Past winners include Matthew Whittet, whose play Old Man was part of Belvoir's 2012 Season, Brendan Cowell whose play Ruben Guthrie was part of Belvoir's 2009 Season, and Kate Mulvany whose play The Seed was part of Belvoir's 2008 season and toured nationally.
The 2012 finalists are:
Kit Brookman for Heaven
Joanna Erskine for K.I.J.E.
Philip Spencer for Boxing Day
Tim Spencer for Show Me Yours, I'll Show You Mine 
Rick Viede for A Hoax
An embargoed announcement of the winner will be available in the last week of November.
The Philip Parsons Young Playwright's Award is supported by Arts NSW and Currency House.
Notes for Editors
Event Details
Date Sunday 2 December 2012
Tickets $10
Venue Belvoir St Theatre | 25 Belvoir St, Surry Hills
Bookings 02 9699 3444 or belvoir.com.au
Image Gallery
Andrew Upton by Lisa Tomasetti – download
Contact Details
For media information and interviews contact Elly Michelle Clough
[email protected] | 02 8396 6242 | 0407 163 921