An interview with Creator and Director Roslyn Oades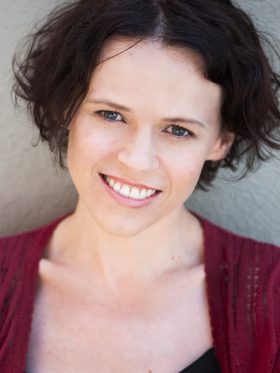 Tell us a little about verbatim theatre. Why did you pick this medium for I'm Your Man?
In a nutshell verbatim theatre is a documentary form of theatre that uses the words and stories of real people as its source material. I work with a non-traditional version of this form, which I refer to as headphone-verbatim. It's a performance technique I have been experimenting with since 2001. Rather than reciting memorised lines, the actors in I'm Your Man wear headphones and speak along to a sequence of carefully edited audio interviews word-for-word. By confining the actors to the discipline of accompanying a recording with absolute precision (including every cough and stumble), a curious, hyper-real performance style is established. While the actors often adopt characters with an accent/background/age/gender obviously not their own, the technique eliminates the possibility of parody or interpretation – a genuine concern when dealing with real-life material. There is a weightiness that comes with being given a story. It's a responsibility I don't take lightly.
I also confess to an unhealthy interest in speech patterns, vocal mannerisms and the dynamics of group conversation. Headphone verbatim performance enables me to mine the layers of meaning embedded in the way people speak. On this project I was particularly interested in recording a fighter's voice in moments of adrenaline rush – for example, just before a fight when they can barely speak or directly after a win when they are highly animated and buzzing with excitement.
How did you prepare for the work? What was an average day in Bankstown's boxing world like?
In preparing for I'm Your Man I spent a lot of time hanging out in boxing gyms in both Sydney and Melbourne (which is where I currently live). My personal favourite was the Fighter's Factory in Melbourne, which is a great old school boxing gym with a lot of character. Murray the owner there kindly lent me half of his huge poster collection to use on the walls in our theatre. I also started getting some boxing lessons myself just to understand the basics. After my first lesson I couldn't move my arms for a week – so I have a lot of respect for my cast who will train throughout the entire show night after night. Luckily we have an excellent movement director, Lee Wilson, on our team and a boxing trainer, Billy MacPherson (who is also part of the cast) – so those guys bring the authenticity I lack in regard to training routines.
Another reference I've returned to many times has been a beautiful fly-on-the-wall documentary film called Boxing Gym by Frederick Wiseman, recently seen in the Sydney Film Festival. And of course I've read all the boxing books I can get my hands on. I highly recommend Joyce Carol Oates On Boxing and My Longest Round a heart-breaking first-person story by Aboriginal boxing legend, Wally Carr – which we are planning to have on sale in our foyer during the season.
What do you think are the challenges in directing a work you have written/created?
Being the writer and director on a new work is definitely a juggling act. I basically have no social life right now. I spend my days rehearsing and my nights/weekends doing further editing and refining of the audio-script. The positives are that the creation and realization of the work are very integrated. But I am aware of the dangers associated with taking on both roles. After two years with my head in the text I am very close to the material. For this reason I am very particular about finding the right team of artists to work with. On I'm Your Man I am lucky to be working with an extraordinary creative team whom I trust and collaborate closely with. When I find someone I work well with I hold on to them. I have been collaborating with several members of our team for many years now.
Who are the actors in I'm Your Man? How did you pick them?
I have been working with performers Mohammed Ahmad and Katia Molino for many years and they are ongoing members of my creative ensemble. The other three performers are new to the process. It can be quite tricky finding actors who can pull off the particular performance technique I use. The requirements for I'm Your Man brought an extra level of difficulty because I needed actors with a good ear, a versatile voice and some boxing experience. I knew Justin Rosniak previously through having worked as voice artists together on a number of animations. I already knew he had amazing vocal abilities and when I heard through the grapevine that he'd done some boxing I invited him to join us for our first creative development of the project in 2010. He was a good fit and we've worked hard to keep him on board despite his other career demands. We conducted an extensive audition process before finding the lovely John Shrimpton. As part of the audition procedure the actors were asked to skip for three-minutes. You can tell a lot about some ones boxing ability by watching them skip – and that man sure knows how to skip. Our final cast member, Billy MacPherson initially joined the team as our boxing trainer/consultant. But we all so enjoyed his presence and the authenticity he brought to the project that I knew I had to include him on stage also.
How do you think audiences will respond to this work?
I think audiences will find I'm Your Man intriguing and very engaging. Australia has a rich boxing history and our legacy of professional fighters have some amazing stories to share. The show is set in a boxing gym and focuses on intimate behind-the-scenes experiences rather than actual fights. There is a beautiful rhythm to a working gym that's quite factory-like and meditative. We're planning to create an immersive environment that situates the audience within that world – giving them frontline access to this private arena.