A brilliant new play about stand-up comedy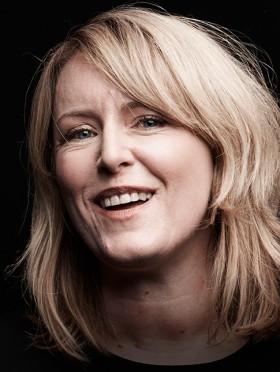 Belvoir presents
Is This Thing On?
By Zoë Coombs Marr
Directors Kit Brookman & Zoë Coombs Marr
Set & CostumeDesigner Ralph Myers
Lighting Designer Verity Hampson
Composer & Sound Designer Steve Toulmin
With
Madeleine Benson
Genevieve Giuffre
Fiona Press
Susan Prior
Nat Randall
Belvoir St Theatre | Downstairs
2 October – 26 October 2014
Brianna is a stand-up comedian. This is her life: an unfortunate name, a boring childhood, slow self-realisation, a late coming-out. Drink. Standing in smelly rooms with strange men who all tell the same jokes. Vomiting on stage. Carrying on anyway. Is there a reason? Probably not. Just a way of coping with your own mediocrity. But Brianna is funny; crude, revolting and hilarious. And so is this play.
Zoë Coombs Marr's brilliant new play is a portrait of a life in a comedy routine. Well, five overlapping comedy routines,from five Briannas at different ages, performed by five foolhardy actresses. It is about being funny when funny is all you have.
Coombs Marr won the Philip Parsons Young Playwright's Award in 2011 for And That Was the Summer That Changed My Life – this led to the commission of Is This Thing On?. As well as a playwright and theatre-maker with performance group post (Oedipus Schmoedipus), Coombs Marr is a stand-up comic and regular guest on Dirty Laundry Live (ABC2).
Five great actresses will play Brianna at different points in her life, starting with Madeleine Benson (Old Man) who at just 16 is taking on her second role at Belvoir. Genevieve Giuffre (Summertime in the Garden of Eden, Griffin Independent) and Nat Randall play Brianna through her twenties. Sydney Theatre Award winner Susan Prior (Small and Tired) navigates Brianna through her thirties and veteran performer Fiona Press(The Moodys, ABC1) is Brianna at her most mature.
Ralph Myers will create the seedy pub comedy room of nightmares in the tiny Downstairs Theatre for the truly authentic stand-up open mic experience.
Is This Thing On? is a kind of Don Quixote for the female comic – a magnificent and stupid quest for one shining moment of specialness which may have already happened.
Notes for Editors
Season information
Dates 2 October – 26 October 2014
Previews Thursday 2 & Friday 3 October
Opening Night Saturday 4 October
Times Tuesday 7pm | Wednesday to Friday 8.15pm | Saturday 2.15pm & 8.15pm | Sunday 5.15pm
Tickets Full $48 | Seniors/Industry/Group $42 | Concession $38 | Previews $38
Venue Belvoir St Theatre | 25 Belvoir St, Surry Hills
Bookings 02 9699 3444 or belvoir.com.au
Image Gallery
Production images by Brett Boardman – download
Rehearsal images by Brett Boardman – download
Hero image by Garry Heery – download
Video
Contact Details
For media information and interviews contact Elly Michelle Clough
[email protected] | 02 8396 6242 | 0407 163 921