Coranderrk is about what might have been.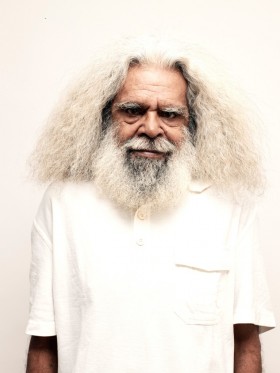 A Belvoir and ILBIJERRI Theatre Company co-production
Coranderrk
By Andrea James & Giordano Nanni
Concept Giordano Nanni
Director Isaac Drandic
Assistant Director Ralph Myers
Set & Costume Designers Ruby Langton-Batty & Ralph Myers
Lighting Designer Damien Cooper
Composer & Sound Designer Ben Grant
AV Designer Peter Worland
With
Katherine Beckett
Jack Charles
Mathew Cooper
Kelton Pell
Melodie Reynolds
Bjorn Stewart
Belvoir St Theatre | Upstairs
7 December 2013 – 3 January 2014
In the neglected storehouse of Australian history, this is one of the definitive stories. At a Victorian Parliamentary Inquiry in 1881, the men and women of the Coranderrk Aboriginal Reserve went head-to-head with the Aboriginal Protection Board. Their goal was both simple and revolutionary: to be allowed to continue the brilliant experiment in self-determination they had pioneered for themselves on the scrap of country left to them.
The Coranderrk station was established in 1863 by surviving members of Kulin clans who had been displaced from their lands by the advancement of European colonisation. They settled outside of present-day Healesville in Victoria and established a thriving farming community. As white farmers began to settle in the area they lobbied to have the people of Coranderrk removed from the valuable farming land they were cultivating.
Faced with the prospect of being dispossessed of their land again, the men and women of Coranderrk mounted an unprecedented campaign. They wrote letters to Melbourne's newspapers, petitions to Ministers, and formed deputations to the Chief Minister by walking into Melbourne, appropriating the power of the written word and white political discourse to demand justice, dignity and self-determination. A Parliamentary Inquiry was appointed in 1881 to investigate the management of Coranderrk and decide upon the future of the station and its inhabitants.
Coranderrk recreates the Inquiry. This is both great theatre and great history. It revives the voices of all those, black and white, who fought for a better compact between the country's oldest and newest inhabitants – three dozen of them from 132 years ago, speaking for themselves, directly to us, as though the question at hand remains unanswered today.
Featuring an all Indigenous cast, including Jack Charles (Jack Charles V The Crown), Kelton Pell (Redfern Now) and Bjorn Stewart (The Dark Room), this production of Coranderrk is a dramatisation of the transcripts of the Inquiry. Belvoir has partnered with ILBIJERRI to redevelop earlier verbatim versions of this story.
This special co-production between Belvoir and ILBIJERRI Theatre Company pays tribute to the resilience and adaptability of a people who rose to the challenge despite the odds, appropriating the power of the written word to make their own voices ring loud and clear.
Notes for Editors
Season information
Dates 7 December 2013 – 3 January 2014
Previews Saturday 7 & Sunday 8 December 2013
Opening night Wednesday 11 December 2013
Sunday Forum 3pm 22 December 2013
Times Tuesday 6.30pm | Wednesday to Friday 8pm | Saturday 2pm & 8pm | Sunday 5pm
Tickets Full $65 | Seniors/Industry/Group $55 | Concession $45
Venue Belvoir St Theatre | 25 Belvoir St, Surry Hills
Bookings 02 9699 3444 or belvoir.com.au
Indigenous theatre at Belvoir supported by The Balnaves Foundation
ILBIJERRI acknowledges the support of the Australian Research Council and the Minutes of Evidence project (LP110200054)
Image Gallery
Production images by Patrick Boland – download
Rehearsal images by Heidrun Lohr – download
Hero images by Gary Heery – download
Contact Details
For media information and interviews contact Elly Michelle Clough
[email protected] | 02 8396 6242 | 0407 163 921