Mandy McElhinney returns to Belvoir as a modern Cinderella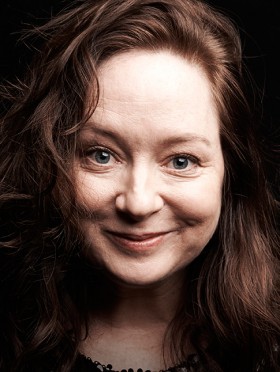 Belvoir presents
Cinderella
By Matthew Whittet
Original Concept Anthea Williams
Director Anthea Williams
Set & Costume Designer Elizabeth Gadsby
Lighting Designer Matthew Marshall
Composer & Sound Designer Kelly Ryall
With
Mandy McElhinney
Matthew Whittet
Belvoir St Theatre | Downstairs
13 November – 7 December 2014
It's a fable that's been told to young girls for generations. Every culture has a version and every little girl knows about the prince with the missing shoe. And while there are some paternalistic themes within the Cinderella story, it is ultimately about the transformative power of love.
This is the story of what happens when Ashely, a single Sydney woman in her 30s, flees in terror from a blind date to find herself with Ash, a slightly reclusive fellow who has found her missing shoe. It's a story of mortification, dodgy Chinese food, loneliness, missed phone calls and a little bit of magic.
Mandy McElhinney is Ashley. Known to Belvoir audiences for her heartbreaking turn in Forget Me Not, McElhinney is also a gifted comic actor and joyous klutz. Matthew Whittet (The Book of Everything, Old Man) has created this play with director Anthea Williams (Forget Me Not, Old Man), and plays the mildly magical Ash with all the whimsy and ridiculousness he is known for. In the intimate confines of the Downstairs Theatre this thoroughly modern Cinderella will charm and delight audiences with its wit, warmth and candor.
Like the original, this is a story about how ugly ugly people can be, and how ugly beautiful people can be too. How love can be found in the strangest places. And of how in this world, perhaps your best chance is to be your own fairy godmother.
PS. When a man and a woman do fall in love, children may result, but they should not be brought to this particular show.
Notes for Editors
Season information
Dates 13 November – 7 December 2014
Previews Thursday 13 & Friday 14 November
Opening Night Saturday 15 November
Times Tuesday 7pm | Wednesday to Friday 8.15pm | Saturday 2.15pm & 8.15pm | Sunday 5.15pm
Tickets Full $48 | Seniors/Industry/Group $42 | Concession $38 | Previews $38
Venue Belvoir St Theatre | 25 Belvoir St, Surry Hills
Bookings 02 9699 3444 or belvoir.com.au
Image Gallery
Production images by Brett Boardman – download

Rehearsal images by Brett Boardman – download

Hero images by Gary Heery – download

Contact Details
For media information and interviews contact Elly Michelle Clough
[email protected] | 02 8396 6242 | 0407 163 921