What do we do when we cannot perform?
I must have liberty withal, as large a charter as the wind, to blow on whom I please.
As You Like It
Belvoir has faced a lot of tricky situations over the years but nothing quite like this. Theatre has been banished from human activity. Who knew? JobKeeper has helped to save many of our regular staff but not the work of the 150-odd actors, writers, directors and designers we employ every year. What is a theatre company without audiences and artists? 
This bizarre set of circumstances has forced us to re-think our company. Or to remember it. Belvoir exists because it was saved from the oblivion of redevelopment in 1984. Our first job in this pandemic has been to make sure we don't succumb to the oblivion of Covid-19. To do that we have had to make some wretched decisions. We have had to let some excellent people go, and everyone who is left is part-time. Our staff, as has always been the case in the life of this company, are Belvoir's first donors. They go beyond at the best of times, and they are going beyond now.
Belvoir was saved in 1984 not by the glancing eye of government but by a community act of protest. The need was clear: Sydney must have a theatrical home for a set of ideals and hopes that defy the grim ethos of dealership that so often rules our city. The instinct behind the action was idealistic, headlong, optimistic, a bit chaotic but full of possibility – all things that still animate Belvoir at its best today.
And at the centre of the whole undertaking was the idea of giving artists somewhere to work on the freest possible terms with the best possible intentions. Here is the original Company B charter from 1984:
"[to create] contemporary, politically sharp, hard-edged Australian theatre; to develop new forms of theatrical expression; to create work by and about Aboriginal Australians; contemporary music theatre; work created by women; radical interpretations of the classics and work that is surprising, diverse and passionate."
That work has to go on. Now more than ever. Even though we are in shutdown and hanging by a thread, the only thing that makes sense is to keep going.
So we have reimagined our company. 
Starting in May we are gathering ensembles of artists to develop work for the future. We'll start small – a few teams for a day a week. But with more support we can do more work.
We can get back to the job of performing – in some new, and some old, ways.
But more than anything we can get back to the work we have been putting so much of our energy into these last few years – the development of new work.
Now is a good time to find new ways to tell new stories. Our theatre is dark, but we can keep working behind the scenes to turn life, crisis, change into ideas, scenes, scripts, plays. This work is slow and unspectacular, but the results can be magic – Counting and Cracking, Barbara and the Camp Dogs, Fangirls, The Wild Duck, Cloudstreet… Our goal right now is to be ready at the other end of this pandemic with more shows like these.
The real impact of Covid-19 is still ahead of us. The massive job of remaking the country post-Covid is still ahead of us. That will be an imaginative task as much as an economic one. Belvoir's work, our artists, our audiences have a great democratic role to play in that.
We are beginning now.
Now is the time for new ideas. New stories. New ways of working. Time to change some things, fix some things. 
We're not stopping. We're changing tack.
To misquote Angels in America, 
The great work continues.
Artists at Work – In Development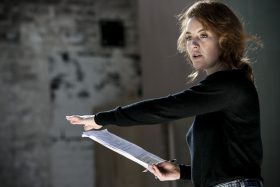 We cannot perform, but we can develop work for when this thing is over. Our goal is to use this time to find some new ways to tell new stories. We will work with communities and artists on the kind of ensemble-based long-form development that we normally don't have the time for.
To find out more click here.
Artists at Work – In Performance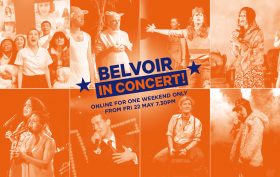 During our shut down we produced Belvoir in Concert, a greatest hits of our musical numbers over the years, newly recorded for our socially distanced online environment.
Click here to see the event page for Belvoir in Concert.
Artists at Work – Shutdown Residencies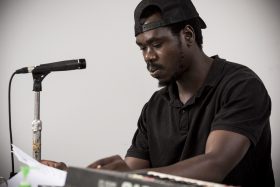 Thanks to the generosity of a private philanthropic foundation we are extending Artists at Work to our peers in the indie and small-to-medium sectors. Belvoir is now seeking Expressions of Interest for a series of one-off, quick response grants for short-term residencies at Belvoir. We are looking for ambitious new ideas for new work from independent artistic teams.
Applications for our Shutdown Residencies have now closed. Click here to view the successful residencies.
Donate to Artists at Work