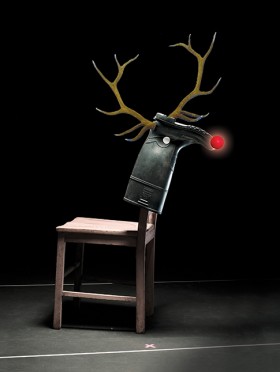 Giving the gift of theatre is an unbeatable way to share the joy of live performance with those you love. What's more – it's a gift you can share throughout the year if you subscribe together! What better way to make a Christmas gift last all year long than by coming along to the theatre together every month or two?
Our 2015 Season is stacked with a very pleasing collection of theatrical treats.
The Ultimate Christmas Gift…
a subscription package!
Spoil someone with a subscription to our Upstairs shows, our Downstairs shows, or both. We've got a range of packages to suit all budgets and a selection of shows to knock your socks off. A 30-Down subscription is a really great way to give a young person the life-changing experience of regularly attending live theatre. The feedback we've had from many, many young people over the years attests to this.
Subscriptions to see all 12 plays start at just $350.
Or subscribe to 8 shows Upstairs from as little as $282.
Or 4-play packages in our Downstairs Theatre start at just $125.
Check out all the 2015 subscription packages available here!
Gift Vouchers – subscriptions or any value
With a Belvoir gift voucher, your family and friends can select from a range of fabulous shows in 2015. We can provide gift vouchers either for a specific subscription OR for any value, so just let our Box Office staff know what you'd like over the phone, or purchase online via the links below.
Gift vouchers for subscriptions
If you are buying a subscription gift voucher and you would like to select the plays and dates for your friend or loved one, you can subscribe immediately with our online subscription form here. Just make a note in the Additional Comments box that this subscription is a gift. Otherwise your gift voucher will be posted to you with a season book and you, or they, can fill in the hard copy subscription form and send it back to us.
Make a Donation to our

Education

Appeal
If you love theatre, you can share the love by giving disadvantaged kids access to our world-class theatre, via our Priority Schools Program. By making a donation to our holiday season Education Appeal, you can help provide our work free of charge to schools that are faced with socio-economic or regional disadvantage. In other words, let's get more kids into our theatres! Read more and make a donation here. (And if you'd like to make a donation as a gift for someone, let us know by emailing [email protected].)
The Belvoir Book
25 Belvoir Street is our stunning coffee table book, full of essays, memories and vivid photographs, celebrating a quarter of a century of theatre at Belvoir. It makes the perfect Christmas gift for anyone who loves Belvoir, loves theatre or just loves a great historical story. It traces the social and political background from which Belvoir emerged and looks at the way the building itself has found a way into our imaginations. Edited by Robert Cousins, with a foreword by David Marr, 25 Belvoir Street features a collection of essays, including those by our own AD Ralph Myers, our ex-AD Neil Armfield, Benedict Andrews, Robert McFarlane, Rhoda Roberts and Rita Kalnejais.
If you are a current Belvoir subscriber, you pay the special price of only $67 (+ $20 postage & handling within Aus.) You are welcome to buy over the counter at our Box Office and save the postage fee. Regular RRP is $77. Read more details and purchase the book online here.
And … everyone needs stocking fillers!
Playscripts
Scripts of favourite new or adapted works are great stocking fillers for drama lovers. We have many back issue programs that contain the full playscript. Fantastic for students, writers and simply anyone who loves to read scripts. Browse our full list available online here.
Belvoir Tote Bags
At only $5 our Belvoir calico tote bags will go anywhere – handy for shopping and beaching this summer! Available colour is cream bag with forest green print. Size is approx 35.5cm x 35.5cm plus handle. Add $5.50 delivery or buy over the counter and pay no delivery charge.
Keating! CD
Remember our smash hit production of Keating!? You can re-live every special musical moment with the soundtrack for only $5 (plus $5.50 delivery). Purchase online here.
Watch our Christmas video!