By Arthur Miller  Director Simon Stone
8 - 11 Nov 2012
Geelong Performing Arts Centre
This year's smash hit is on tour to Geelong.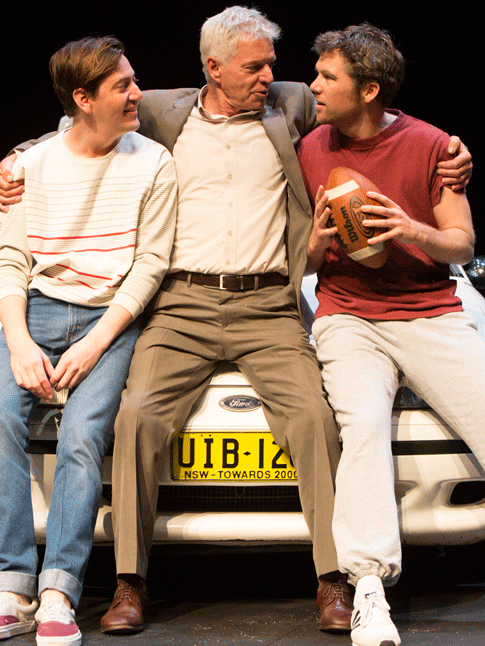 Winner of a 2012 Sydney Theatre Award
Best Actor in a Supporting Role in a Mainstage Production
(Patrick Brammall)
Winner of a 2013 Helpmann Award
Best Actor in a Leading Role (Colin Friels)
Willy Loman is feeling his age. He and his wife Linda are struggling to make their mortgage repayments. The company he works for is branching out in new directions and it looks like he's about to be left behind. When his university drop-out son, Biff, moves back home after years of drifting, old tensions rise to the surface.
Arguably the greatest play of the twentieth century, Arthur Miller's Death of a Salesman is about a man refusing to let go of the false dreams we were all once promised. Returning to our corner stage after an absence of 30 years, Colin Friels tackles the role of a lifetime in Simon Stone's take on this timeless masterpiece.
Cast (Geelong season)
Paula Arundell
Patrick Brammall
Colin Friels
Genevieve Lemon
Hamish Michael
Pip Miller
Luke Mullins
Christopher Stollery 
Team (Geelong season)
Writer Arthur Miller
Director Simon Stone
Set Designer Ralph Myers
Costume Designer Alice Babidge
Lighting Designer Nick Schlieper
Lighting Realiser Sian James-Holland
Composer and Sound Designer Stefan Gregory
Fight Director Scott Witt
Assistant Director Jennifer Medway
Stage Manager Eva Tandy
Assistant Stage Manager Chantelle Foster
Image Gallery
Video